from Day by Day with the Persecuted Church

I will place a wool fleece on the threshing-floor. If there is dew only on the fleece and all the ground is dry, then I will know that you will save Israel by my hand, as you said. (Judges 6:37)
Gideon
Was it alright for Gideon to ask for a sign? Wasn't he filled with the Holy Spirit? Hadn't he heard God's voice already? What more did he want?
The fact that God granted Gideon's request, does not mean He agreed with him. But God understands our human weaknesses and treats us with godly patience. God goes to meet us and meets us just where we are.
So to "put down a fleece" and ask for a sign time and time again, is this right?
God gave us His Word as a light for our path and a lamp unto our feet (Psalm 119:105). If God's Word is God's will for your life, He will guide you by that Word. That is no mysterious or magic act. It means: walking with God.
Whosoever follows Him, communicates with Him and keeps His Word, will be guided by Him in all truth.
Copyright [C] 1995 Open Doors International. Used by permission.
Click here to sign up for a free monthly newsletter from Open Doors about persecuted Christians.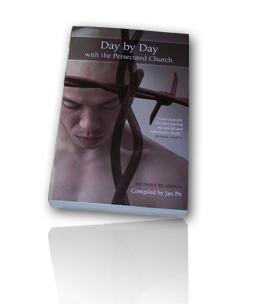 Day by Day with the Persecuted Church
compiled by Jan Pit with a forward by Brother Andrew (paperback, revised 2000)
Compelling wisdom from the pen of actual believers living amidst persecution, you'll be connected to the suffering, courage, and depth of life that exists in the harshest places in the world. Each of these 365 thought-provoking devotions will deepen your understanding of Christian persecution and provoke you to pray for our brothers and sisters with a new found depth.