from Day by Day with the Persecuted Church

The Lord said to Gideon, "You have too many men for me to deliver Midian into their hands."
(Judges 7:2)
Gideon
You cannot be too small for God to use, but you can be too big. That is what the story in Judges 7:2 teaches us.
When we no longer depend upon ourselves He takes us by the hand and tells us that we can trust Him completely. We have to learn to be dependent on God. Without Him we can do nothing. We will also discover that He can do the impossible.
It is not our responsibility to understand how He will perform His work in and through us. He only asks us to trust Him and do what He tells us to do.
It may seem absurd. To win a war with just empty jars. And 300 soldiers against 135,000. Numbers are not important to God. He is looking for empty vessels, in which He can pour out His treasures.
"But we have this treasure in jars of clay to show that this all-surpassing power is from God and not from us" (2 Corinthians 4:7). This way we will get the victory and God the honor. Honor to who honor is due.
Copyright [C] 1995 Open Doors International. Used by permission.
Click here to sign up for a free monthly newsletter from Open Doors about persecuted Christians.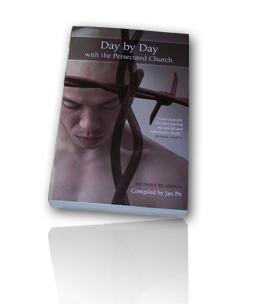 Day by Day with the Persecuted Church
compiled by Jan Pit with a forward by Brother Andrew (paperback, revised 2000)
Compelling wisdom from the pen of actual believers living amidst persecution, you'll be connected to the suffering, courage, and depth of life that exists in the harshest places in the world. Each of these 365 thought-provoking devotions will deepen your understanding of Christian persecution and provoke you to pray for our brothers and sisters with a new found depth.