from Day by Day with the Persecuted Church

If the world hates you, keep in mind that it hated me first. If you belonged to the world, it would love you as its own. As it is, you do not belong to the world, but I have chosen you out of the world. That is why the world hates you. (John 15:18-19)
Menes Abdul Noor
The greatness of Jesus is seen in the clarity and openness of His teachings. He tells us that the world gives privileges to its followers. It loves its own. It hates the believers in Jesus because it hates their Master. The world hates the Father because it does not know the Father (John 15:21,23). The world has no excuse for its sin, because Jesus spoke clearly about the consequences, but they refused His testimony.
Those who abide in Christ should know who they are. They are not of the world. They are chosen by Jesus to go out of the world. The world hates their leader.
Jesus teaches us that if persecution comes to us, it should come because we are loyal to Him, and not because of our mistakes. When the apostles of Jesus were beaten they departed from the presence of the Jewish council rejoicing that they were counted worthy to suffer shame for Jesus" name (Acts 5:41).
Jesus warned us of coming persecutions (John 15:20). We should not be shocked. If we suffer for His name's sake, then persecution is normal. We should not think that the Lord had deserted or forgotten us (Isaiah 49:14-16). "Rejoice and be glad, because great is your reward in heaven" (Matthew 5:12).
Writer of the Month: Menes Abdul-Noor from Egypt. A respected leader of the Christian Church in Cairo.
Copyright [C] 1995 Open Doors International. Used by permission.
Click here to sign up for a free monthly newsletter from Open Doors about persecuted Christians.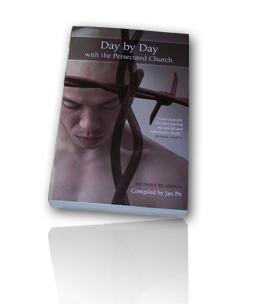 Day by Day with the Persecuted Church
compiled by Jan Pit with a forward by Brother Andrew (paperback, revised 2000)
Compelling wisdom from the pen of actual believers living amidst persecution, you'll be connected to the suffering, courage, and depth of life that exists in the harshest places in the world. Each of these 365 thought-provoking devotions will deepen your understanding of Christian persecution and provoke you to pray for our brothers and sisters with a new found depth.