from Day by Day with the Persecuted Church

In the beginning was the Word, and the Word was with God, and the Word was God. He was with God in the beginning.
Through him all things were made; without him nothing was made that has been made....
He came to that which was his own, but his own did not receive him. Yet to all who received him, to those who believed in his name, he gave the right to become children of God - children born not of natural descent nor of human decision or a husband's will, but born of God.
The Word became flesh and made his dwelling among us. We have seen his glory, the glory of the one and only Son, who came from the Father, full of grace and truth. (John 1:1-3, 11-14)
Ghassan Khalaf
It was one of the darkest periods of war in Lebanon. Beirut was like an open hell. Gun shells were showering over a vast area for several days. Many people were killed.
After the fighting stopped, I went to visit a young lady to bring her my sympathy. She had lost her husband in the final skirmish and was left with three little children. She was weeping and grieving - friends were trying to comfort her.
When she noticed me, she shouted, "I don't believe in God, don't speak to me about Him. He does not care for us. He let us die. He is just watching us."
A wave of compassion came over my soul. Thousands of people in my country say the same words.
After she calmed down, I said, "Dear lady, what you have said about God would have been all true, if He had not become flesh and died on the cross to redeem us and to prove that He does care. God in Christ was involved in our situation and because He has passed through suffering, He is able to help those who suffer. Do you believe that?"
She nodded.
Writer of the Month: Ghassan Khalaf from Lebanon. Amidst bombings and destruction, Brother Khalaf faithfully visited victims of war to encourage them in their faith.
Copyright [C] 1995 Open Doors International. Used by permission.
Click here to sign up for a free monthly newsletter from Open Doors about persecuted Christians.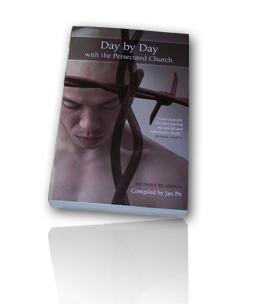 Day by Day with the Persecuted Church
compiled by Jan Pit with a forward by Brother Andrew (paperback, revised 2000)
Compelling wisdom from the pen of actual believers living amidst persecution, you'll be connected to the suffering, courage, and depth of life that exists in the harshest places in the world. Each of these 365 thought-provoking devotions will deepen your understanding of Christian persecution and provoke you to pray for our brothers and sisters with a new found depth.