from Day by Day with the Persecuted Church

But Noah found favor in the eyes of the Lord. (Genesis 6:8)
Noah
In a time of moral darkness and corruption, Noah walked with God. When God wanted to destroy the human race, Noah found favor in God's eyes.
When we complain about the world in which we live, let us learn these important lessons from Noah's life.
1. That it is possible to walk with God in spite of surrounding lawlessness and godlessness.
2. That Noah was obedient when God asked him to accomplish a strange and difficult task.
3. That Noah warned his neighbors of impending judgment, thus offering them a way of repentance.
4. That Noah was protected and saved by God, who honored his faith by an everlasting promise.
When the waters of judgment covered the earth, Noah was safe within the Ark. What a wonderful illustration the Ark affords of Jesus Christ who preserves us from the fire of judgment which will come to our world.
"Therefore, since we have been justified through faith, we have peace with God through our Lord Jesus Christ..." (Romans 5:1).
There is hope - for you and your family, whatever the circumstances may be.
Copyright [C] 1995 Open Doors International. Used by permission.
Click here to sign up for a free monthly newsletter from Open Doors about persecuted Christians.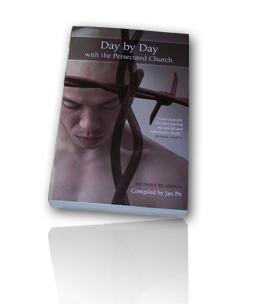 Day by Day with the Persecuted Church
compiled by Jan Pit with a forward by Brother Andrew (paperback, revised 2000)
Compelling wisdom from the pen of actual believers living amidst persecution, you'll be connected to the suffering, courage, and depth of life that exists in the harshest places in the world. Each of these 365 thought-provoking devotions will deepen your understanding of Christian persecution and provoke you to pray for our brothers and sisters with a new found depth.