from Day by Day with the Persecuted Church

The Lord is with you, mighty warrior. (Judges 6:12b)
For when I am weak, then I am strong. (2 Corinthians 12:10b)
Gideon
Gideon a mighty warrior? When you read Judges, the opposite seems to be the case. Gideon was a timid, disappointed Israelite. Yet, God called him a mighty warrior.
Was God being cynical? No, God is never sarcastic. God did not see what Gideon was, but what he could become. God sees us in a different way than we view ourselves. God chooses the weak to confound the wise (1 Corinthians 1:27). He can turn a weak and frightened Gideon into a hero and leader.
Don't look upon yourself in a negative way. "I can't do anything, I am a nobody. I have nothing to offer." Whoever dares to answer "Yes" when God calls, will be anointed by Him.
For the weak are strong. For the weak can count on God's help. And will receive it. Even today.
Copyright [C] 1995 Open Doors International. Used by permission.
Click here to sign up for a free monthly newsletter from Open Doors about persecuted Christians.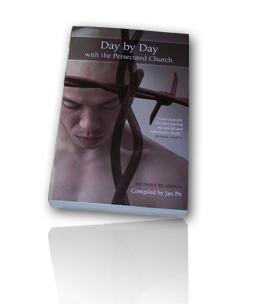 Day by Day with the Persecuted Church
compiled by Jan Pit with a forward by Brother Andrew (paperback, revised 2000)
Compelling wisdom from the pen of actual believers living amidst persecution, you'll be connected to the suffering, courage, and depth of life that exists in the harshest places in the world. Each of these 365 thought-provoking devotions will deepen your understanding of Christian persecution and provoke you to pray for our brothers and sisters with a new found depth.