from Day by Day with the Persecuted Church

In the land of Uz there lived a man whose name was Job. This man was blameless and upright; he feared God and shunned evil.
(Job 1:1)
Job
One person we could not leave out of this book is Job. In no other book of the Bible are we confronted with the problems of suffering so much. Yet the question "why" is not clearly answered. Eliphaz and his friends had an easy answer - it was Job's own fault. For them and for many today, suffering is a consequence of sinning. Others will announce boldly their theory that those who follow God will never be in need. However, Job 1:1 challenges this dangerous suggestion immediately, "this man was blameless and upright, he feared God and shunned evil."
Job suffered so much precisely because he was so God-fearing. In Job chapter one, verse one, he is described as blameless, upright, God-fearing and one who shuns evil.
Those who are really blameless are also upright.
Those who really fear God, also shun evil.
Job practiced what he preached. He not only came across as blameless, but was also known as an upright business man. He not only said that he feared God, but he also made a conscious effort to keep away from evil.
Such people automatically become a target of Satan. But they also become honored by God.
In Job's case God let the devil do his utmost. Incomprehensible, sometimes unacceptable. Had God such great trust in Job? And Job in God?
This is what it is all about this week. Job's secret is our instruction today - blameless and upright, God fearing and shunning evil. Then, even in evil days, you can stand fast. And in dark days you can see light. The light.
Copyright [C] 1995 Open Doors International. Used by permission.
Click here to sign up for a free monthly newsletter from Open Doors about persecuted Christians.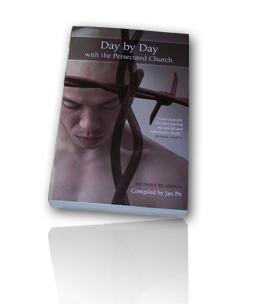 Day by Day with the Persecuted Church
compiled by Jan Pit with a forward by Brother Andrew (paperback, revised 2000)
Compelling wisdom from the pen of actual believers living amidst persecution, you'll be connected to the suffering, courage, and depth of life that exists in the harshest places in the world. Each of these 365 thought-provoking devotions will deepen your understanding of Christian persecution and provoke you to pray for our brothers and sisters with a new found depth.