from Day by Day with the Persecuted Church

The Lord gave and the Lord has taken away; may the name of the Lord be praised. In all this, Job did not sin by charging God with wrongdoing. (Job 1:21-22)
Job
Many sayings from Sister Basilea Slink are well known. One of these reads, "God's actions are always love, even if we do not understand Him."
Job could have written those words, or better still, this was Job's testimony.
He did not understand God. He was full of "whys" but he had no doubt that God had His best in mind.
Some people say that you must never ask "why" something has happened, but "what for?" That may sound a little pious, but on a more practical note, hear the words of a woman who herself had come through many things. "I do not ask 'why?' or 'what for', but I ask myself the question, 'How am I going to get through all this?'"
Job did it because he clung to God who does not have a hand in our suffering, but has His hands around it.
Not only in Job's situation but also in yours.
Copyright [C] 1995 Open Doors International. Used by permission.
Click here to sign up for a free monthly newsletter from Open Doors about persecuted Christians.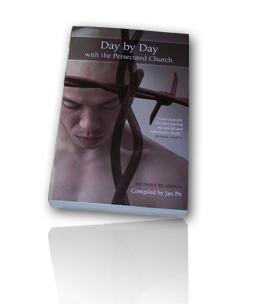 Day by Day with the Persecuted Church
compiled by Jan Pit with a forward by Brother Andrew (paperback, revised 2000)
Compelling wisdom from the pen of actual believers living amidst persecution, you'll be connected to the suffering, courage, and depth of life that exists in the harshest places in the world. Each of these 365 thought-provoking devotions will deepen your understanding of Christian persecution and provoke you to pray for our brothers and sisters with a new found depth.