from Day by Day with the Persecuted Church

Who shall separate us from the love of Christ? Shall trouble or hardship or persecution or famine or nakedness or danger or sword? As it is written, "For your sake we face death all day long; we are considered as sheep to be slaughtered." No, in all these things we are more than conquerors through him who loved us. For I am convinced that neither death nor life, neither angels nor demons, neither the present nor the future, nor any powers, neither height nor depth, nor anything else in all creation, will be able to separate us from the love of God that is in Christ Jesus our Lord. - (Romans 8:35-39)
Antonio Garrido
The Church in Cuba has gone through many times of persecution during the last three decades.
Sometimes the enemy of God's people confronted us face to face. Sometimes the battle was more subtle, when they disguised themselves and infiltrated our churches as wolves in sheep's clothing. But they failed. We knew their plans. They tried to discourage God's people through loss of jobs, loss of education and other privileges. They infiltrated the minds of our children with diabolical materialism. But in all these things they failed.
Despite these trials and tribulations the Church of God remained - alive, growing and full of power. If God is for us - who can be against us? Who shall separate us from the love of Christ? Shall tribulation, or distress, or persecution, or famine, or nakedness, or peril, or sword?
No, in all these things we are more than conquerors through Him who loved us.
Antonio Garrido, from Cuba, shares about his life with the Lord. Despite the battle, his meditations witness to victory and faith. He writes under a pseudonym.
Copyright [C] 1995 Open Doors International. Used by permission.
Click here to sign up for a free monthly newsletter from Open Doors about persecuted Christians.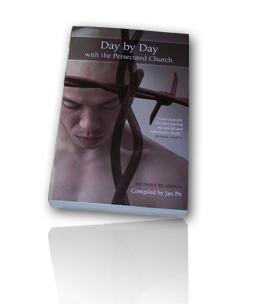 Day by Day with the Persecuted Church
compiled by Jan Pit with a forward by Brother Andrew (paperback, revised 2000)
Compelling wisdom from the pen of actual believers living amidst persecution, you'll be connected to the suffering, courage, and depth of life that exists in the harshest places in the world. Each of these 365 thought-provoking devotions will deepen your understanding of Christian persecution and provoke you to pray for our brothers and sisters with a new found depth.