from Day by Day with the Persecuted Church

Now Joseph had been taken down to Egypt. Potiphar, an Egyptian who was one of Pharaoh's officials, the captain of the guard, bought him from the Ishmaelites who had taken him there. The Lord was with Joseph and he prospered, and he lived in the house of his Egyptian master. When his master saw that the Lord was with him and that the Lord gave him success in everything he did, Joseph found favor in his eyes and became his attendant. Potiphar put him in charge of his household, and he entrusted to his care everything he owned. From the time he put him in charge of his household and of all that he owned, the Lord blessed the household of the Egyptian because of Joseph. The blessing of the Lord was on everything Potiphar had, both in the house and in the field. So he left in Joseph's care everything he had; with Joseph in charge, he did not concern himself with anything except the food he ate. Now Joseph was well-built and handsome. (Genesis 39:1-6)
Enrique Palacio
The story of the life of Joseph occupies more than ten chapters of the book of Genesis. It seems that God wants us to know all the details of the faith that perseveres. Joseph resisted hatred, injustice, temptations and maybe the most difficult of all - success, prosperity and power.
From his life we learn:
faith is not moved by adversity.
faith that persists is not shaken by false accusations.
it is not blurred by promises that never seems to come true.
it is not limited to the present, but projects to the future.
The faith that persists:
sees the invisible.
believes the impossible.
receives the incredible.
Enrique Palacio, from Cuba, shares about his life with the Lord. Despite the battle, his meditations witness to victory and faith. He writes under a pseudonym.
Copyright [C] 1995 Open Doors International. Used by permission.
Click here to sign up for a free monthly newsletter from Open Doors about persecuted Christians.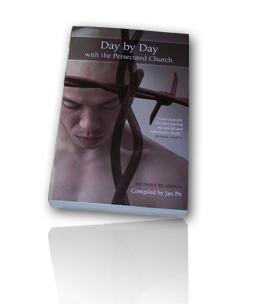 Day by Day with the Persecuted Church
compiled by Jan Pit with a forward by Brother Andrew (paperback, revised 2000)
Compelling wisdom from the pen of actual believers living amidst persecution, you'll be connected to the suffering, courage, and depth of life that exists in the harshest places in the world. Each of these 365 thought-provoking devotions will deepen your understanding of Christian persecution and provoke you to pray for our brothers and sisters with a new found depth.