from Day by Day with the Persecuted Church

David notices that the wicked prosper while the righteous suffer. Yet he concludes that the little that the righteous have is better than the wealth of many wicked (Psalm 37:16). For the power and the riches of the wicked will vanish, but the righteous will live for ever and ever. The choice is not hard to make.
"Wait for the Lord and keep his way. He will exalt you to possess the land" (Psalm 37:34).
David
The wicked plot against the righteous and gnash their teeth at them;
but the Lord laughs at the wicked, for he knows their day is coming.
The wicked draw the sword and bend the bow to bring down the poor and needy, to slay those whose ways are upright.
But their swords will pierce their own hearts, and their bows will be broken.
Better the little that the righteous have than the wealth of many wicked;
for the power of the wicked will be broken, but the Lord upholds the righteous.
The days of the blameless are known to the Lord, and their inheritance will endure forever.
In times of disaster they will not wither; in days of famine they will enjoy plenty.
(Psalm 37:12-19)
Copyright [C] 1995 Open Doors International. Used by permission.
Click here to sign up for a free monthly newsletter from Open Doors about persecuted Christians.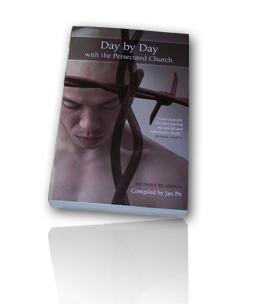 Day by Day with the Persecuted Church
compiled by Jan Pit with a forward by Brother Andrew (paperback, revised 2000)
Compelling wisdom from the pen of actual believers living amidst persecution, you'll be connected to the suffering, courage, and depth of life that exists in the harshest places in the world. Each of these 365 thought-provoking devotions will deepen your understanding of Christian persecution and provoke you to pray for our brothers and sisters with a new found depth.