from Day by Day with the Persecuted Church

David is short of words to thank and honor his God. To thank him for answering his prayer; to honor him for his faithfulness. He challenges others to always trust in the Lord - and never to forget to thank Him.
David
I will extol the Lord at all times; his praise will always be on my lips.
My soul will boast in the Lord; let the afflicted hear and rejoice.
Glorify the Lord with me; let us exalt his name together.
I sought the Lord, and he answered me; he delivered me from all my fears.
Those who look to him are radiant; their faces are never covered with shame.
This poor man called, and the Lord heard him; he saved him out of all his troubles.
The angel of the Lord encamps around those who fear him, and he delivers them.
(Psalm 34:1-7)
Copyright [C] 1995 Open Doors International. Used by permission.
Click here to sign up for a free monthly newsletter from Open Doors about persecuted Christians.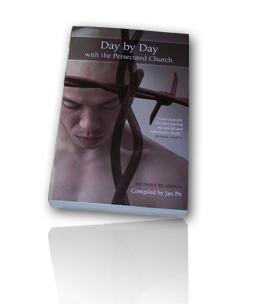 Day by Day with the Persecuted Church
compiled by Jan Pit with a forward by Brother Andrew (paperback, revised 2000)
Compelling wisdom from the pen of actual believers living amidst persecution, you'll be connected to the suffering, courage, and depth of life that exists in the harshest places in the world. Each of these 365 thought-provoking devotions will deepen your understanding of Christian persecution and provoke you to pray for our brothers and sisters with a new found depth.