from Day by Day with the Persecuted Church

But he knows the way that I take; when he has tested me, I shall come forth as gold. (Job 23:10)
Naji Abi-Hashem
By nature we tend to escape suffering and avoid pain. We frequently complain about hardships and dream of a life without sorrow. But is that realistic? An old proverb in the Midrash Tehillim says, "If you want life, expect pain."
When we suffer, God often surprises us with a special blessing. Although we tend to blame Him, at times, for what we are going through, He is gracious enough to bestow on us a unique measure of grace.
As a result, we surprise ourselves with the degree of strength we have acquired to bear the unbearable and endure the hard seasons of life. He is willing to give our suffering a new meaning. Certainly, our character is best sharpened through pain. Hardships are not meant to defeat us but to develop us. Therefore, we become brighter and more refined, like the rays of the sun after the rain.
Naji Abi-Hashem from Lebanon.
Copyright [C] 1995 Open Doors International. Used by permission.
Click here to sign up for a free monthly newsletter from Open Doors about persecuted Christians.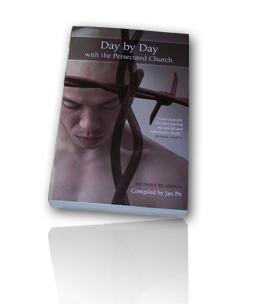 Day by Day with the Persecuted Church
compiled by Jan Pit with a forward by Brother Andrew (paperback, revised 2000)
Compelling wisdom from the pen of actual believers living amidst persecution, you'll be connected to the suffering, courage, and depth of life that exists in the harshest places in the world. Each of these 365 thought-provoking devotions will deepen your understanding of Christian persecution and provoke you to pray for our brothers and sisters with a new found depth.