from Day by Day with the Persecuted Church

The righteous will flourish like a palm tree; they will grow like a cedar of Lebanon. (Psalm 92:12)
Naji Abi-Hashem
Lebanon is mentioned in the Bible over 300 times. It is a symbol of beauty, pride, and prosperity. The Scriptures often refer to the fragrance of the trees in Lebanon and to the gardens that cover the hills. This psalm makes a beautiful analogy between the true believer and the cedar of Lebanon. First, the cedar tree is evergreen. It is always fresh throughout the changing seasons. And so is the believer who has received the overflowing life of Christ. His faith and joy are fresh as the Lord nurtures and looks after him.
Second, the cedar tree grows on high altitudes and opens its branches to the skies. So does the believer who is called to live on higher ground and who keeps his thoughts and affections in the heavenlies. He opens up his soul to heaven in worship and supplication. He generously receives grace and power. In turn, he becomes a blessing to others.
Third, a cedar tree is deeply rooted and could live for thousands of years. So is the believer who is standing on the Rock of Ages and has received everlasting life from Christ.
Fourth, the cedar tree spreads an elegant fragrance and its wood is very expensive. Likewise is the Christian, who was bought with an extremely precious price and was graciously brought into the family of God. Consequently, he is commissioned to spread the fragrance of Christ and to be an open letter of love, faith, and hope to all the nations of this earth.
Naji Abi-Hashem from Lebanon.
Copyright [C] 1995 Open Doors International. Used by permission.
Click here to sign up for a free monthly newsletter from Open Doors about persecuted Christians.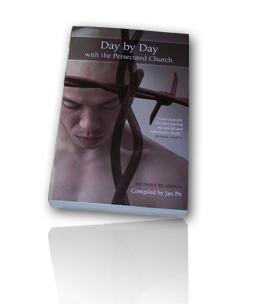 Day by Day with the Persecuted Church
compiled by Jan Pit with a forward by Brother Andrew (paperback, revised 2000)
Compelling wisdom from the pen of actual believers living amidst persecution, you'll be connected to the suffering, courage, and depth of life that exists in the harshest places in the world. Each of these 365 thought-provoking devotions will deepen your understanding of Christian persecution and provoke you to pray for our brothers and sisters with a new found depth.