from Day by Day with the Persecuted Church

It will rejoice greatly and shout for joy. The glory of Lebanon will be given to it, the splendor of Carmel and Sharon; they will see the glory of the Lord, the splendor of our God. (Isaiah 35:2)
Lucien Accad
Nothing is impossible for God. We do not plant in a desert but our Lord grows all kind of plants in areas where nothing wants to live. Moreover, it is amazing to see some parts of the world which have been deserts for hundreds of years and which today have the attention of men who plant trees, grass, flowers and all sorts of shrubs.
It is true that some parts of the world are becoming deserts, but where money and attention are available, deserts are turned into green fields. This gives hope for areas of the world that have become spiritual deserts. They seem out of the reach of God and the rain of the Word of God. But suddenly miracles start to take place, especially where the focus of prayer is concentrated. Walls of darkness come down, and rain from heaven turns arid soil into gardens of trees and fruit.
Copyright [C] 1995 Open Doors International. Used by permission.
Click here to sign up for a free monthly newsletter from Open Doors about persecuted Christians.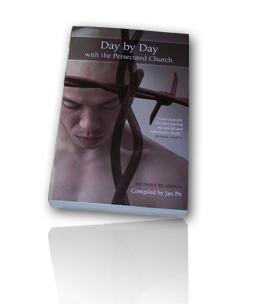 Day by Day with the Persecuted Church
compiled by Jan Pit with a forward by Brother Andrew (paperback, revised 2000)
Compelling wisdom from the pen of actual believers living amidst persecution, you'll be connected to the suffering, courage, and depth of life that exists in the harshest places in the world. Each of these 365 thought-provoking devotions will deepen your understanding of Christian persecution and provoke you to pray for our brothers and sisters with a new found depth.