from Day by Day with the Persecuted Church

Faith by itself, if it is not accompanied by action, is dead. (James 2:17)
Li An
I have a brother-in-law who works for the government of China. He strongly believed in Marxism and rationalism. He tried to persuade me to give up my faith in God. And I tried to convince him of the truth of the Gospel. In the end nobody won the argument.
But then he made a very interesting statement, "I do not believe in God, nor that Jesus ever existed. However, one thing I do confess is that I admire your father's deeds. If there is a God, your father surely will be Jesus' image."
A few years later, he and his whole family became Christians. It taught me a very, very important lesson. My faith must be accompanied by works and deeds. "Faith by itself, if it is not accompanied by action, is dead."
"Let your light shine before men, that they may see your good deeds and praise your Father in heaven" (Matthew 5:16).
Writer for the month - Li An from China. Because he is well-known in China, he requested that his real name was not published. We have used the pseudonym, Li An.
Copyright [C] 1995 Open Doors International. Used by permission.
Click here to sign up for a free monthly newsletter from Open Doors about persecuted Christians.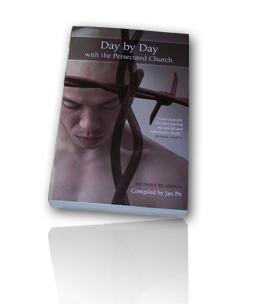 Day by Day with the Persecuted Church
compiled by Jan Pit with a forward by Brother Andrew (paperback, revised 2000)
Compelling wisdom from the pen of actual believers living amidst persecution, you'll be connected to the suffering, courage, and depth of life that exists in the harshest places in the world. Each of these 365 thought-provoking devotions will deepen your understanding of Christian persecution and provoke you to pray for our brothers and sisters with a new found depth.