from Day by Day with the Persecuted Church

Therefore, since Christ suffered in his body, arm yourselves also with the same attitude, because he who has suffered in his body is done with sin. (1 Peter 4:1)
Pastor Samuel Lamb
Different people may have different reasons for suffering. Needless to say that there is no gain in suffering that is caused by sin.
As Christians we all experience different degrees of suffering. Therefore, we should arm ourselves with a right attitude - the attitude of accepting spiritual suffering as a mark of true discipleship.
Jesus said, "You will indeed drink from my cup" (Matthew 20:23). We need to be willing to suffer daily, even though God did not call us to suffer daily. If we fall through the trials that come our way, then we do not have the right attitude towards suffering.
Suffering is limited - but the attitudes of accepting suffering should be limitless... even unto death. Do we have the right attitude? When you grumble you lose your peace, when you curse suffering you have no victory.
We must make up our minds daily to be willing to suffer for Christ. Then, and only then, will we experience blessing, peace and victory.
Writer for the month - Samuel Lamb from China. This noted pastor was in prison for over 20 years. He is still under great pressure from the authorities. Hundreds attend his so-called House Church, especially young people. His story is available in a book Bold as a Lamb published by Zondervan, 1991.
Copyright [C] 1995 Open Doors International. Used by permission.
Click here to sign up for a free monthly newsletter from Open Doors about persecuted Christians.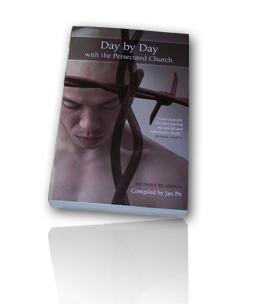 Day by Day with the Persecuted Church
compiled by Jan Pit with a forward by Brother Andrew (paperback, revised 2000)
Compelling wisdom from the pen of actual believers living amidst persecution, you'll be connected to the suffering, courage, and depth of life that exists in the harshest places in the world. Each of these 365 thought-provoking devotions will deepen your understanding of Christian persecution and provoke you to pray for our brothers and sisters with a new found depth.