from Day by Day with the Persecuted Church

Jehovah Jireh - The Lord will provide. (Genesis 22:14)
Abraham
True deliverance will come only when we have reached the mountain of sacrifice. As long as we hold on to what is precious to us, God cannot take over. As soon as we let go - we let God.
It reminds me of that young boy who wanted to get a precious gift out of a bottle. It was a painful exercise but at last he got hold of the precious gift. He tried to get it out of the bottle, but his hand clutching on to the gift was too big to get it back through the bottle neck. There was only one way to get his hand out of the bottle. He had to let go of the gift. It will always be like that in our spiritual lives.
Leave the miracle to God. Abraham experienced that. "The Lord will provide." His obedience to God resulted in blessing for all the nations.
"...and through your offspring all nations on the earth will be blessed because you have obeyed me" (Genesis 22:18).
Copyright [C] 1995 Open Doors International. Used by permission.
Click here to sign up for a free monthly newsletter from Open Doors about persecuted Christians.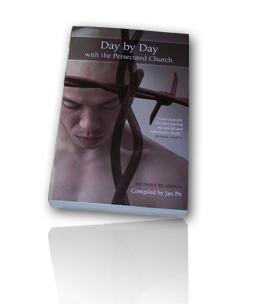 Day by Day with the Persecuted Church
compiled by Jan Pit with a forward by Brother Andrew (paperback, revised 2000)
Compelling wisdom from the pen of actual believers living amidst persecution, you'll be connected to the suffering, courage, and depth of life that exists in the harshest places in the world. Each of these 365 thought-provoking devotions will deepen your understanding of Christian persecution and provoke you to pray for our brothers and sisters with a new found depth.