from Day by Day with the Persecuted Church

A prayer for deliverance from the enemy.
David is accused and incriminated. He cries to God, the heavenly judge, who knows that David is honest and just. He puts his faith in his God - The God who is a righteous judge.
David
O Lord my God, I take refuge in you; save and deliver me from all who pursue me,
or they will tear me like a lion and rip me to pieces with no one to rescue me.
O Lord my God, if I have done this and there is guilt on my hands-
if I have done evil to him who is at peace with me or without cause have robbed my foe-
then let my enemy pursue and overtake me; let him trample my life to the ground and make me sleep in the dust.
Arise, O Lord, in your anger; rise up against the rage of my enemies. Awake, my God; decree justice.
Let the assembled peoples gather around you. Rule over them from on high;
let the Lord judge the peoples. Judge me, O Lord, according to my righteousness, according to my integrity, O Most High.
O righteous God, who searches minds and hearts, bring to an end the violence of the wicked and make the righteous secure.
(Psalm 7:1-9)
Copyright [C] 1995 Open Doors International. Used by permission.
Click here to sign up for a free monthly newsletter from Open Doors about persecuted Christians.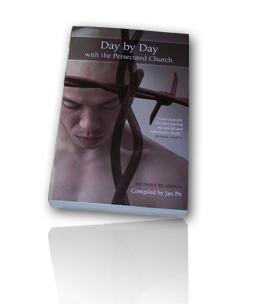 Day by Day with the Persecuted Church
compiled by Jan Pit with a forward by Brother Andrew (paperback, revised 2000)
Compelling wisdom from the pen of actual believers living amidst persecution, you'll be connected to the suffering, courage, and depth of life that exists in the harshest places in the world. Each of these 365 thought-provoking devotions will deepen your understanding of Christian persecution and provoke you to pray for our brothers and sisters with a new found depth.