from Day by Day with the Persecuted Church

The Lord is my light and my salvation; whom shall I fear? (Psalm 27:1)
Li An
During the time I was persecuted because of the Gospel, I was once condemned to die. But the Lord protected me. Instead of taking my life they threw me into prison.
Some time afterwards, something strange happened. The judge who had sentenced me got into trouble himself. Because of his political activities he was himself sentenced to a long prison term. He was not only put into the same prison, but he was put into the same cell with me.
After he found out my name he started to cry, "O God, I surrender. Oh Jesus I really surrender."
He went on for four or five minutes and then turned to me. "So it is you. Do you remember me? Your life was in my hands. I had already sentenced you to die and I did try to execute the sentence many times, but every time I tried to get you executed something happened which kept delaying the execution. But who would have thought I would be here, in prison, with you? I see that your God has preserved your life. You are in His hands. But I am in the hands of the Marxists. They will not let me live. Forgive me please. I need your Jesus."
I looked at him. He had been my judge. Now I was his judge. And the Lord told me what kind of sentence I should pass on him.
"Are not two sparrows sold for a penny? Yet not one of them will fall to the ground apart from the will of your Father" (Matthew 10:29).
God forgives, and so should we.
Writer for the month - Li An from China. Because he is well-known in China, he requested that his real name was not published. We have used the pseudonym, Li An.
Copyright [C] 1995 Open Doors International. Used by permission.
Click here to sign up for a free monthly newsletter from Open Doors about persecuted Christians.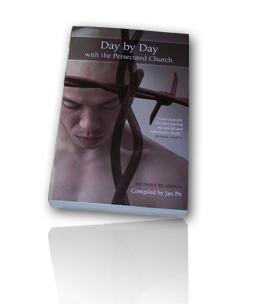 Day by Day with the Persecuted Church
compiled by Jan Pit with a forward by Brother Andrew (paperback, revised 2000)
Compelling wisdom from the pen of actual believers living amidst persecution, you'll be connected to the suffering, courage, and depth of life that exists in the harshest places in the world. Each of these 365 thought-provoking devotions will deepen your understanding of Christian persecution and provoke you to pray for our brothers and sisters with a new found depth.