from Day by Day with the Persecuted Church

Where is the wise man? Where is the scholar? Where is the philosopher of this age? Has not God made foolish the wisdom of the world? (1 Corinthians 1:20)
Gerhard Hamm
Paul describes here the main difference between human and divine wisdom. The world only acknowledges human wisdom and such was also the case in our country. We Christians were considered second-rate citizens. Oh how often children from Christian families had to suffer scorn and abuse! At school, they received lower marks and were labeled bad students.
Many things have changed in Russia since 1989. Never before has there been such openness for the Gospel as there is now. Once, during an open air meeting, a very learned woman came to me. She was a lecturer at the Atheistic University. She looked pale and confused. When I asked her what I could do for her, she answered, "I have been fighting your God, your Bible, the Christians for twenty years now..." She hesitated for a moment and then continued, "But I was wrong." She fell silent again ... "and now I want to know more of the truth. Help me."
Her head bowed, this learned atheist stood before a Christian who had formerly been considered a second-rate citizen. I told her about the Gospel and prayed with her. Then she went home, walking in the light.
"The One enthroned in heaven laughs" (Psalm 2:4). For He is in command, nothing is too difficult for Him. The Iron Curtain fell and God is building His Church.
Is anything too hard for the Lord?
Writer for the month - Gerhard Hamm from Russia spent many years in prisons and labor camps in Northern Siberia.
Copyright [C] 1995 Open Doors International. Used by permission.
Click here to sign up for a free monthly newsletter from Open Doors about persecuted Christians.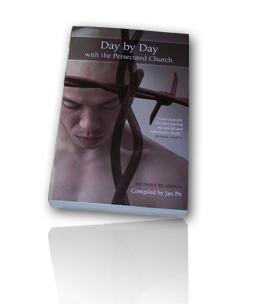 Day by Day with the Persecuted Church
compiled by Jan Pit with a forward by Brother Andrew (paperback, revised 2000)
Compelling wisdom from the pen of actual believers living amidst persecution, you'll be connected to the suffering, courage, and depth of life that exists in the harshest places in the world. Each of these 365 thought-provoking devotions will deepen your understanding of Christian persecution and provoke you to pray for our brothers and sisters with a new found depth.