from Day by Day with the Persecuted Church

The true light that gives light to every man was coming into the world. (John 1:9)
Horacio Herrera
Our century is often called the century of light. So many new discoveries, so many new insights - indeed a century of light. Yet, we see more darkness around us than ever before.
Why? Because people do not see The Light, but follow other, destructive lights - horoscopes, fortune tellers and the zodiac. They think that these are trustworthy stars, "It is written in the stars."
Remember that Satan himself masquerades as an angel of light (2 Corinthians 11:14).
Jesus is the light of the world - leading to salvation. Satan appears as an angel of light - leading to bondage and destruction. Which star do we follow?
Psalm 36:9 says, "For with you is the fountain of life. In your light we see light."
He has revealed that light to us through his word, which is a light for my path (Psalm 119:5).
In my country of Cuba, Christmas is not officially celebrated. Only the Christians celebrate Christmas, and although we don't have commercial Christmas lights, we have the light, Jesus, who enlightens us daily.
The star of Bethlehem still brings everlasting light and joy to those who seek Him.
As a bumper sticker reads: Wise Men Still Seek Jesus.
Horacio Herrera from Cuba. Because of his leading role in the Cuban Church he uses a pseudonym.
Copyright [C] 1995 Open Doors International. Used by permission.
Click here to sign up for a free monthly newsletter from Open Doors about persecuted Christians.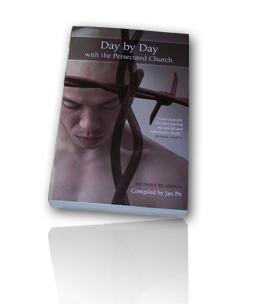 Day by Day with the Persecuted Church
compiled by Jan Pit with a forward by Brother Andrew (paperback, revised 2000)
Compelling wisdom from the pen of actual believers living amidst persecution, you'll be connected to the suffering, courage, and depth of life that exists in the harshest places in the world. Each of these 365 thought-provoking devotions will deepen your understanding of Christian persecution and provoke you to pray for our brothers and sisters with a new found depth.