from Day by Day with the Persecuted Church

This psalm was probably written by David when Absalom was plotting to dethrone him. It seems that David was aware of this plan. What can he do to stop it? He turns to the Lord, his God.
David
Give ear to my words, O Lord, consider my sighing.
Listen to my cry for help, my King and my God, for to you I pray.
In the morning, O Lord, you hear my voice; in the morning I lay my requests before you and wait in expectation.
You are not a God who takes pleasure in evil; with you the wicked cannot dwell....
Lead me, O Lord, in your righteousness because of my enemies - make straight your way before me.
Not a word from their mouth can be trusted; their heart is filled with destruction. Their throat is an open grave; with their tongue they speak deceit.
Declare them guilty, O God! Let their intrigues be their downfall. Banish them for their many sins, for they have rebelled against you.
But let all who take refuge in you be glad; let them ever sing for joy. Spread your protection over them that those who love your name may rejoice in you.
For surely, O Lord, you bless the righteous; you surround them with your favor as with a shield.
(Psalm 5:1-4, 8-12)
Copyright [C] 1995 Open Doors International. Used by permission.
Click here to sign up for a free monthly newsletter from Open Doors about persecuted Christians.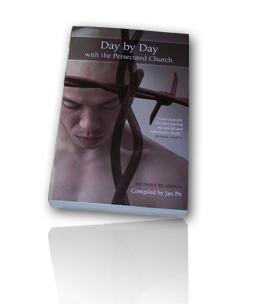 Day by Day with the Persecuted Church
compiled by Jan Pit with a forward by Brother Andrew (paperback, revised 2000)
Compelling wisdom from the pen of actual believers living amidst persecution, you'll be connected to the suffering, courage, and depth of life that exists in the harshest places in the world. Each of these 365 thought-provoking devotions will deepen your understanding of Christian persecution and provoke you to pray for our brothers and sisters with a new found depth.