from Day by Day with the Persecuted Church

...and they will call him Immanuel, which means, 'God with us'. (Matthew 1:23)
Jan Pit
If you want to know who God is take a good look at Christ. "The Word became flesh and made his dwelling among us. We have seen his glory, the glory of the One and Only, who came from the Father, full of grace and truth" (John 1:14).
Philip said, "Lord, show us the Father and that will be enough for us. Jesus answered, "Don't you know me, Philip, even after I have been among you such a long time? Anyone who has seen me has seen the Father. How can you say, "Show us the Father?" Don't you believe that I am in the Father, and that the Father is in me?" (John 14:8-10).
God came to dwell among us. He became man in Christ. He, the Almighty Creator, became man. That is why He can identify with us in good and bad days; in storm or shine; in times of happiness and in times of deep sorrow and loneliness.
That is why he is called "Immanuel: God with us."
Not an abstract God above us, but a man of flesh and blood alongside us, giving us a model on how we should live.
We can entrust ourselves to such a Savior and through Him we can call God "Abba-Father."
What a privilege.
What a God.
What a Savior.
Whose birth you can celebrate each blessed Christmas season.
Kneeling at the manger, because you have knelt at the Cross.
Have you never done that before? Why not do so today?
Copyright [C] 1995 Open Doors International. Used by permission.
Click here to sign up for a free monthly newsletter from Open Doors about persecuted Christians.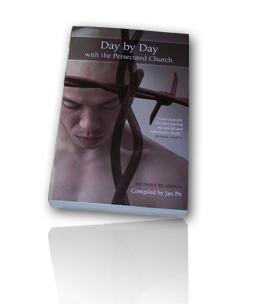 Day by Day with the Persecuted Church
compiled by Jan Pit with a forward by Brother Andrew (paperback, revised 2000)
Compelling wisdom from the pen of actual believers living amidst persecution, you'll be connected to the suffering, courage, and depth of life that exists in the harshest places in the world. Each of these 365 thought-provoking devotions will deepen your understanding of Christian persecution and provoke you to pray for our brothers and sisters with a new found depth.