from Day by Day with the Persecuted Church

Unless a grain of wheat falls to the ground and dies, it remains only a single seed. But if it dies, it produces many seeds. (John 12:24)
Even though I walk through the valley of the shadow of death, I will fear no evil, for you are with me. (Psalm 23:4)
Remarkable Remarks - Victorious Under Pressure
Michael Khorev - formerly USSR:
"Lord, if my bonds glorify you more than my freedom, why should I want freedom?"
Chinese Evangelist in a letter from prison to his wife:
"After you have drunk the cup of suffering, then comes a fountain of blessing."
In another letter to his wife:
"Without fire, how can gold become pure? Without chiseling, how can a rock become a statue? Without pressing, how can grapes become wine?"
Nepalese Christian after years in prison:
"Persecution is only a sign of labor pains, giving birth to the Church."
Paul Claudel:
"Jesus did not come to remove suffering, but to fill it with His presence."
Copyright [C] 1995 Open Doors International. Used by permission.
Click here to sign up for a free monthly newsletter from Open Doors about persecuted Christians.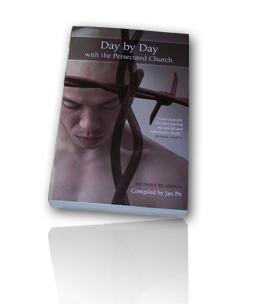 Day by Day with the Persecuted Church
compiled by Jan Pit with a forward by Brother Andrew (paperback, revised 2000)
Compelling wisdom from the pen of actual believers living amidst persecution, you'll be connected to the suffering, courage, and depth of life that exists in the harshest places in the world. Each of these 365 thought-provoking devotions will deepen your understanding of Christian persecution and provoke you to pray for our brothers and sisters with a new found depth.