Unearned Blessing [Part 2]
Are you ready for some good news?
If you live by law, you won't feel thankful; you'll feel "deserving." If you live by grace, you'll be grateful for every good gift. In reality, every good thing in your life is a God moment of unearned blessing.
Today's Text: ""And when the Lord your God brings you into the land that he swore to your fathers, to Abraham, to Isaac, and to Jacob, to give you—with great and good cities that you did not build, and houses full of all good things that you did not fill, and cisterns that you did not dig, and vineyards and olive trees that you did not plant—and when you eat and are full, then take care lest you forget the Lord, who brought you out of the land of Egypt, out of the house of slavery." (Deuteronomy 6:10–13, ESV)
I sort of enjoy shopping for used cars. I like the game of searching out the rare cream puff – the unscratched, like new, low mileage gem that has only been driven by a grandmother to and from church but has been serviced every 3,000 miles. I sort of like haggling too. More and more, used car dealers are posting "no haggling" prices but I like the old days of negotiating, sliding pieces of paper with numbers on it across the table, and pretending to walk out if need be.
With four drivers in the family, I've bought plenty of used cars over the years. When you buy a car, agree on the terms of the sale and sign the papers, the dealer gives you the keys to the car. When handed the keys, you might thank the seller for a happy negotiation and for his good work, but your "thank you" is a polite acknowledgment of a successful business deal. After all, once you've paid for it, you deserve the car.
Decades ago, my wife was on the Price is Right. It was the year before we were married and, while in Los Angeles, we happened upon tickets to Bob Barker's famous show. Anne was the first one called down and she won everything, including the showcase. After winning a trip to Jackson Hole, Wyoming, they rolled out an Oldsmobile and Bob Barker explained to Anne the game of "Lucky Seven." He gave her seven one-dollar bills and she had to guess each digit of the car's price. For each guess, she was required to surrender the number of bills correlated to the difference in her guess and the actual digit. If she had at least one dollar left at the end of the game, she could "buy" the car.
She nailed it, had a couple bucks left at the end and won the car! In her glee, she hugged Bob Barker and ran off the wrong side of the stage as the cameraman zoomed in on her cute, gleaming face. That's not the way you feel when you buy a car. You can feel satisfied after a business transaction. But, when you've been given an enormous gift, you are overjoyed. That's why God wanted the Hebrew people to remember that He was the source of all their blessings. When you remember your God moments of unearned blessing, you are grateful. And when you are grateful, you are joyful. And that's the Gospel!
---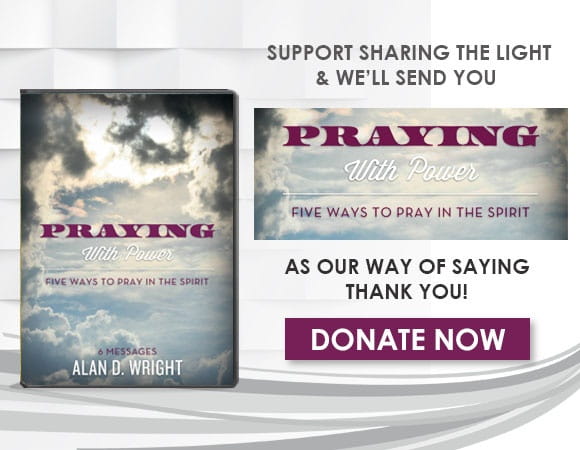 For more information please visit SharingtheLight.org.