From Self-Confidence to Spirit-Confidence [Part 1]
Are you ready for some good news?
On the day of Pentecost, it all made sense to Peter. It all fit together. That's what happens when the Spirit fills your heart too.
Today's Text: "For these people are not drunk, as you suppose, since it is only the third hour of the day. But this is what was uttered through the prophet Joel:" (Acts 2:15–16, ESV)
I took piano lessons for five years as a youth. Five years of scales, chords and songs I didn't like. I had no taste for it and so, when given the choice, I quit and took up the guitar.
Years later, I discovered a battered, out of tune piano in my college dormitory lobby and, for some reason, piddled with it. Strangely, I began feeling attracted to the instrument that I had rejected so many years earlier. I began trying to play a bit "by ear" and I tinkered with some songs I had wished I had been taught as a youth. In my renewed interest, I decided to take Music Theory as an elective during, I think, my Junior year.
The music class was shockingly difficult. Though it wasn't too funny at the time, I chuckle now to think of my miserable failure at a particular pop quiz. The old professor was crotchety and seemed pained by having to teach an introductory course to musical numb skulls like me. His distaste surely wasn't mollified by my feeble efforts on the quiz. We were given a blank sheet of music staff paper (just the lines, no notes or meter or bars) and told to write the music for our favorite Christmas carol.
I tried Silent Night.
I should have tried Jingle Bells.
When I got back my test, it was littered with red ink from the irritated professor. He had written simply: "I do not know what Christmas Carol this is supposed to be – but it is NOT Silent Night."
I struggled my way through the early days of music theory until, one day, it all came together. I had never known that there was a purpose for all the chords and scales that I had painfully practiced as a kid. I realized that there was a beautiful connection – that music fits together in beautiful keys in consistent patterns. The old piano in the dormitory lobby became a dear friend to me. The former piano lessons I once considered drudgery became dear to me with new insight into their connection to beautiful harmonies.
Something like that happened for Peter on Pentecost day. "This is that!" he discovered. Everything that he had learned of the Torah and the Prophets as a youth came together in beautiful harmony. Everything that Jesus had taught him exploded in his consciousness as his soul reveled in the delight of seeing the deepest connections of the Old and the New. In other words, when the Spirit came, everything made sense. That's what happens when the Holy Spirit comes into your heart too. And that's the Gospel!
---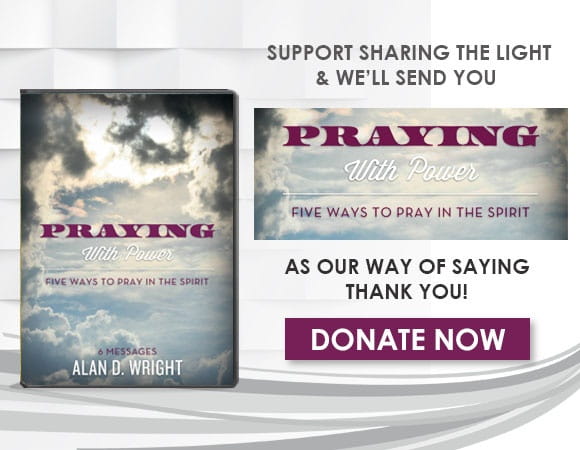 For more information please visit SharingtheLight.org.
Listen to the latest broadcast on OnePlace.com.