Celebration and Contemplation [Part 1]
Are you ready for some good news?
The Christian life isn't all jubilant rejoicing or all quiet meditation – it's both.
Today's Text: "I will extol you, my God and King, and bless your name forever and ever. …. On the glorious splendor of your majesty, and on your wondrous works, I will meditate." (Psalm 145:1–5, ESV)
I've known plenty of Christians who think the secret to spiritual joy and power is exuberant, spontaneity in the Spirit. I've known plenty of others who are convinced that the way to grow is primarily through deep study of the Word. What's more rare is the Christian who has learned to embrace both Spirit and Word, celebration and contemplation.  Some years ago, in the tradition of Dr. Seuss, I penned a playful, poetic allegory that began like this:
The land of Eccleeze was strange, you see,
For its people stopped growing at the height of your knees.
They were short, they were small, but they didn't want to be squat;
They wanted to grow and they wanted it a lot.
Every elf in Eccleeze had the same little cry:
"We want to be tall, we want to grow very high."
Half of the elves in Eccleeze were convinced that the way to grow tall was through dancing and celebrating exuberantly. The other half was insistent that the only way to grow was to study and think deeply.
So the dancers lived with dancers and with dancers they'd stay.
And the thinkers lived with thinkers, for that was their way.
Year after year, "You are wrong" they'd both say,
Until they heard a strange sound on a very strange day.
Though the high-dancers and deep-thinkers feuded in Eccleeze, the psalmist saw no conflict between exuberant praise and quiet meditation. In the first five verses of Psalm 145, he speaks of both "extolling" the Lord and "meditating" on all His wonderful works.
Visit sharingthelight.org to get a pdf or audio version of "The High-Dancing, Deep-Thinking Giant" so you can laugh a little and be reminded of the power of balance for all Christian growth. You are invited to celebrate and contemplate. And that's the Gospel!
---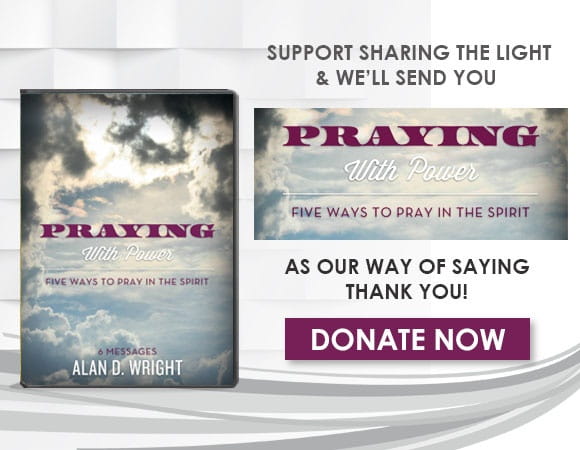 For more information please visit SharingtheLight.org.
Listen to the latest broadcast on OnePlace.com.