Most of the shadows of this life are caused by standing in one's own sunshine. — Ralph Waldo Emerson
Like any good movie, God's unfolding story for humanity contains foreshadowing. He gives us the silhouetted outline of things that are coming, but without giving it away. The first foreshadow of His grace and mercy came right away, in Genesis 3:15, when God told Satan,
"And I will put enmity between you and the woman, and between your offspring and hers; he will crush your head, and you will strike his heel."
This is the first hint of the Gospel ever. This is a foreshadowing of the cross where Satan gives Jesus a hard shot, but in the end Christ crushes Satan through His death.
Another foreshadowing takes place when God looks at Adam and Eve and says, "You know, those fig leaves have gotta go." God made some permanent skin garments to cover their nakedness—and He had to kill an animal to do that. It's the first physical death in the history of the world and it is a symbolic one: God showed that through the death of an innocent One, He will put a new garment on you. It's a theme we see throughout the whole story of the Bible. Take Zechariah 3 for example:
Now Joshua was dressed in filthy clothes as he stood before the angel. The angel said to those who were standing before him, "Take off his filthy clothes." Then he said to Joshua, "See, I have taken away your sin, and I will put fine garments on you." Then I said, "Put a clean turban on his head." So they put a clean turban on his head and clothed him, while the angel of the Lord stood by. — Zechariah 3:3-5
Zechariah is talking about more than clothes here, and he explains how God is going to do this:
"'... I am going to bring my servant, the Branch. See, the stone I have set in front of Joshua! There are seven eyes on that one stone, and I will engrave an inscription on it,' says the Lord Almighty, 'and I will remove the sin of this land in a single day.'" — Zechariah 3:8-9
Wow. That's pretty clear! And the coolest part? You can experience today what he foreshadowed in the past. No more shadows needed. The light of Jesus has caught up with the foreshadow of prophecy and you can live in its brightness today!
My Lord and my God, I praise You, Jesus, for Who You are and what You have done. You removed my sin in a single day. You have taken off my filth and clothed me with clean, fine garments. What can I do except lift empty hands in thanks and praise to You today? Amen.
Listen to Pete, Jill & Stuart Briscoe on the Telling the Truth broadcast at OnePlace.com
SPECIAL OFFER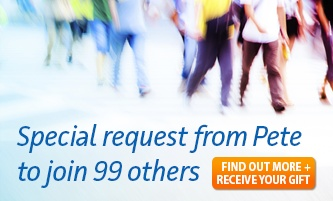 Jill Briscoe's A Little Pot of Oil book and DVD
You know what it's like to be at the end of where your strength can take you. Yet God has given us what we need to fill up when we run low: the incredible gift of Himself! Jill Briscoe wants to help you renew your hope when you're running low. Request her book and DVD,
A Little Pot of Oil
, today!