The only people who get better are people who know that, if they never get better, God will love them anyway. – Steve Brown, A Scandalous Freedom
Part of the struggle for adopted children can be their inability to define forever. One evening, my friends' daughter said to them, "If I can't stop lying, will I need to find another forever family?"
"No," the mom answered. "Never."
"Yeah, but what if I can't stop? Will you change your mind about me?"
Some of you, when you imagine the future with God, feel like my friends' daughter. You're certain that you will exhaust God's patience, and as a result, you'll miss out on the rest of what He has for you.
If you've been adopted into the family of God through the blood of Christ, your adoption is finalized. There are no reversals or relinquishments. The Father does not change His mind. But just in case you struggle to believe your salvation is permanent, He's given us some words of certainty:
Jesus became your priest when God said to Him, "The Lord has sworn and will not change his mind: 'You are a priest forever'" (Hebrews 7:21). It's been decided: He is a forever priest with an indestructible life.
"Because of this oath, Jesus has become the guarantor of a better covenant" (Hebrews 7:22). First there was an oath, and now there is a guarantor – someone who stands as security in legal dealings. Jesus is thee plan; He guarantees it.
And again we are told, "Now there have been many of those priests, since death prevented them from continuing in office; but because Jesus lives forever, he has a permanent priesthood" (Hebrews 7:23-24).
The word permanent occurs only once in the New Testament – and this is it. A firstcentury historian used the word to describe the consistency and reliability of the sun. This consistency and reliability is how we are to rely upon the salvation given to us by Jesus.
The father is saying to us, His adopted children: "You can count on Me. I promise. I guarantee your salvation through Jesus; it's as reliable as the rising and setting of the sun. We're a forever family."
Jesus, the loss of relationship hurts. It sows lies that say I'm not enough and this pain of losing is all I deserve. Thank You for truth. Thank You for being forever and permanent – a guaranteed Love that isn't leaving. Amen.
Listen to Pete, Jill & Stuart Briscoe on the Telling the Truth broadcast at OnePlace.com
SPECIAL OFFER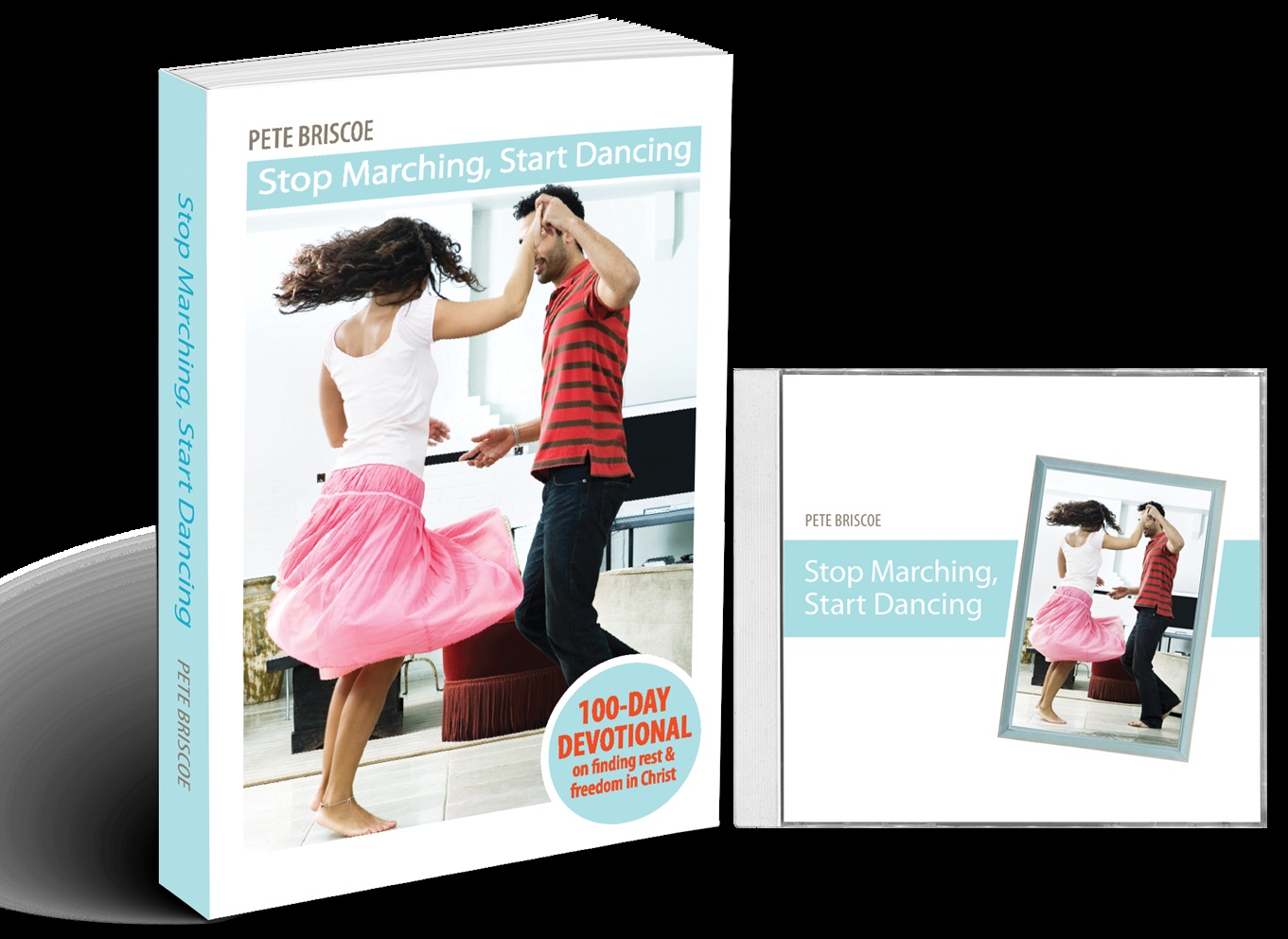 Pete Briscoe's Stop Marching, Start Dancing book and 3-message CD set
Jesus didn't come to enslave you to work your way to holiness. He came to set you free from trying to earn His approval. Learn how you can experience true freedom in God's grace, when you request a signed copy of Pete's Stop Marching, Start Dancing devotional book and 3-message CD set today!