Gaining by giving
"By day the quiltmaker sewed the beautiful quilts she would not sell, and at night the king took them down to the town. There he searched out the poor and downhearted, never happier than when he was giving something away." –Closing lines to The Quiltmaker's Gift
Spirit-led giving takes on special meaning when we observe it from the eyes of those on the receiving end. Let Mike, one of the leaders in our church, share his angle on it:
"Lynn and I have been teaching young adults for over twenty years now. Our college Bible study is called 'Ignite.' In May 2008 I lost my job and I didn't know how long I'd be out of work. One night, Ignite gave us an envelope after our study. It contained $400 cash from members of our ministry to help us through our struggle. The next day, I found a brand new copy of The Shack in my mailbox with $600 cash in an envelope signed simply, 'Papa.'
"In February, they gave us another envelope. This time, it contained $1200. We were floored, humbled, awed, surprised, and a bunch of other adjectives.
"One Wednesday night in May, I was awakened by what sounded like a voice that asked, 'Do you trust me?' I sat up in bed looking for someone in the room, but no one was there.
"Once again, I heard, 'Do you trust me?'
"Sitting there in the dark at 3:00 am I replied, 'Yeah, Lord, I trust you.'
"'Then be still and know that I am God.'
"The next night, Thursday, the Bible study called Lynn and me together and gave us another envelope. This one was thicker. We counted it. $3,600. I sank to my knees. It took all my strength to hold back the tears.
"We entered August and our financial situation was in dire straits. My dream car was repossessed. Once again I was awakened at 3:00 am by a voice in my head. 'Do you trust me?' I sat up in the bed again. This time I woke up Lynn and I asked her if she heard it. Of course, she didn't. She rolled over and went back to sleep.
"I answered the voice, 'Yes, Lord, I trust you.'
"'Then, be still and know that I am God.'
"Once again, after the Bible study the next evening, Ignite got Lynn and me together and they gave us two stuffed envelopes. This time they contained $7,500. I'd never been the recipient of such grace, and I was uncomfortable and I was struggling with this.
"Life continued. Still, no jobs were opening up even though I was getting leads every day. At Thanksgiving, Lynn invited her family from all over the country for Thanksgiving. One night, we had her family and about 30 folks from Ignite for dinner. Later in the evening, a spokesman from the Bible study said that they debated on when to give us their current gift. They decided they wanted Lynn's family to know how much they love us. They handed us another envelope. It was really thick. We took it into the study and counted it, and I was completely overwhelmed.
"When we came out, someone in the family asked, 'How much did they give you?'
"I said, '$10,015.'
"Lynn's family, non-believers, was blown away. No one in our families had even asked if we needed anything during the last seven months of unemployment, yet these young adults were giving us an enormous blessing to help us through the hard times. They had no category for these kids giving at this scale. These guys had just observed the need, talked to God about it, then met that need.
"The following January we moved out of our dream home on a Saturday, lost in foreclosure. I went to work the next Tuesday and have been working ever since.
"Receiving those gifts was an unbelievable blessing. But Ignite says giving was so much more. These kids were growing in their spiritual walk in the Bible study before we got into financial trouble. During this trial in our lives they seized the opportunity to give and their growth just took off. It was tremendously humbling for us and I've never been so thankful. Still, I don't know why we went through such loss… except, just maybe, it was for the growth and blessing of these phenomenal young people."
Jesus, solidify in my heart the joyous conviction that we are blessed when we receive and we are more blessed when we give. Weave that truth into my mind for good. Keep me asking where You want to give, keep me listening to Your Spirit, keep me trusting You to do it through me. And then give me humble joy when it's my turn to receive. Amen.
Listen to Pete, Jill & Stuart Briscoe on the Telling the Truth broadcast at OnePlace.com
SPECIAL OFFER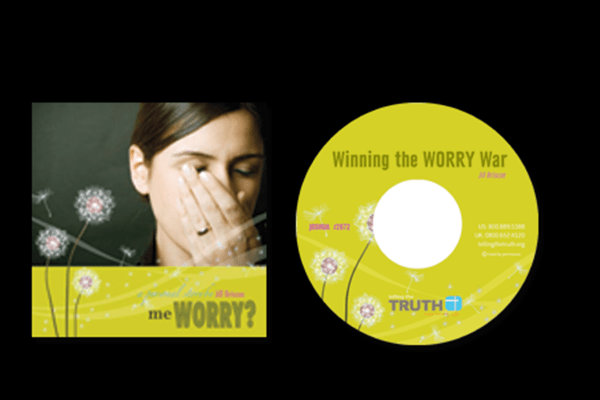 We want to help you win over worry!
Worry doesn't have to have the victory over you! And in Jill Briscoe's special CD/booklet combo pack, she'll show you why… and how you can experience peace, joy, and fullness of life, no matter what's happening around you.
This special set contains one of the most popular messages that Jill has ever taught, "Winning the Worry War," along with her booklet, Me Worry? So please request yours below.