Eternal life now
"No government ever voluntarily reduces itself in size. Government programs, once launched, never disappear. Actually, a government bureau is the nearest thing to eternal life we'll ever see on this earth!" —Ronald Reagan
Okay, so that's a clever quote, but it's not entirely true! Yes, government programs seem to never die; but, eternal life for us? We can see that on earth.
"Believe in the Lord Jesus Christ, and you will be saved."—Acts 16:31
"Now this is eternal life: that they may know you, the only true God, and Jesus Christ, whom you have sent." —John 17:3
On earth, our ability to know Him is clouded by our flesh, the world, and the devil. But that's not always going to be the case!
For we know in part and we prophesy in part, but when perfection comes, the imperfect disappears… For now we see only a reflection as in a mirror; then we shall see face to face. Now I know in part; then I shall know fully, even as I am fully known. —1 Corinthians 13: 9-10, 12
Beliefis the key that opens the door that starts the relationship—clouded as it may be while stuck in physical bodies on this earth. Your belief in Christ begins eternal life now, through a relationship with God, based on grace and love rather than fear and performance… a relationship that will know perfection soon enough.
Jesus, I absolutely thank You and praise You, saved by my belief in You and what You have done for me on the cross. Thank You that my belief opens up the door to know You and experience You now. In the days and months ahead, open Your Word to me in new ways so that I might believe more clearly and know You more intimately. Amen
Listen to Pete, Jill & Stuart Briscoe on the Telling the Truth broadcast at OnePlace.com
SPECIAL OFFER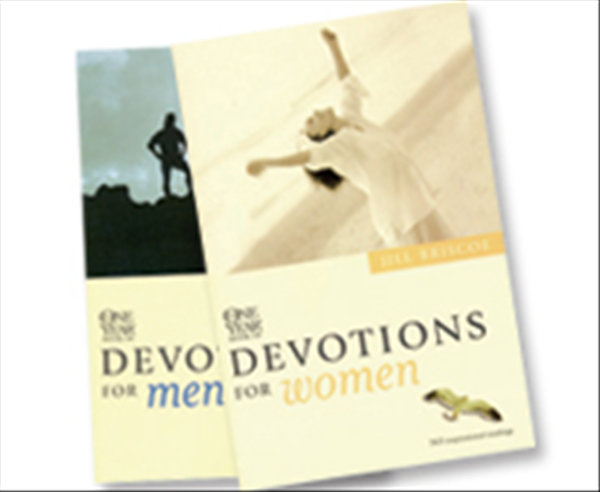 We want to help you spend more time with God in 2012, and grow to know Him more personally and intimately. That's why we want to send you either The One Year Book of Devotions for Women by Jill Briscoeor The One Year Book of Devotions for Men by Stuart Briscoe.
Choose either devotional book as our gift to thank you for your online donation to help Telling the Truth launch into a new year of ministry to you and others!
Donate online or call 800.889.5388 (0800.652.4120 UK). Donate Now