"You will begin to touch heaven, Jonathan, in the moment that you touch perfect speed. And that isn't flying a thousand miles an hour, or a million, or flying at the speed of light. Because any number is a limit, and perfection doesn't have limits. Perfect speed, my son, is being there." – The Elder, Jonathan Livingston Seagull by Richard Bach
As a kid I loved watching the scoring of Olympic gymnasts. Following the routine, each gymnast stood before the television camera and waited to hear where he or she fell on the scale of perfection. It was intense.
A lot of us approach our faith in a similar fashion. We practice obedience hoping we don't lose our footing; we want that perfect 10.
Now, as a believer in Christ, hopefully you know you'll never slip past zero – there is no loss of salvation. But too many of us struggle to believe we please God. After all, God is perfect and He wants perfection; so it must be our job to get there. To measure our success, we place ourselves somewhere along the following scale:
Forgiven Perfect
<------------------------->
0 10
Volunteering at church, helping a neighbor, or hosting a small group moves us toward +10. But as soon as we gossip, curse, or find ourselves on pornographic websites, we slide back down.
Is there any way to remain stationary on this scale?
"Sacrifices and offerings, burnt offerings and sin offerings you did not desire, nor were you pleased with them"… We have been made holy through the sacrifice of the body of Jesus Christ once for all. - (Hebrews 10:8, 10)
The position of perfection isn't the result of our obedience or victory over sin. It's the result of Christ's sacrifice for us – a "once for all" sacrifice which resulted in two things:
We were made holy, permanently. In Hebrews, the word perfection is used to speak of someone finishing a race. It means complete and fully adequate to enter His presence.
Our perfect holiness allows us to enter God's presence and fulfill His desire for uninterrupted relationship with us.
God doesn't declare people who are unholy to be holy. That would be lying. Rather, God makes us holy. If you're in Christ, you're a perfect 10. There is no scale to climb onto that leads to His presence. You're already there.
Jesus, I see myself like an old home – so many projects to take on. Give me Your eyes to see myself as finished – already the perfect home for Your indwelling Spirit. Amen.
Listen to Pete, Jill & Stuart Briscoe on the Telling the Truth broadcast at OnePlace.com
SPECIAL OFFER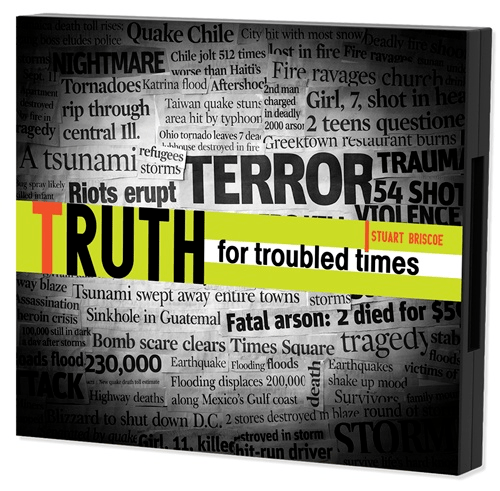 Stuart Briscoe wants to help you speak for Truth in troubled times
Get equipped to speak up for truth in our troubled culture. Request your copy of Stuart Briscoe's 5-message CD series, Truth for Troubled Times. It's our gift to thank you for your donation – which will be doubled by a Matching Grant – to help Telling the Truth reach our $400,000 financial year-end goal!