One of the mysteries of the gospel tradition is this strange attraction of Jesus for the unattractive, this strange desire for the undesirable, this strange love for unlovely. —Brennan Manning
The last flavor of flesh identified by Gillham is Yuck flesh. Yuck flesh is failure flesh—those who feel they are out after the first three pitches; those who compare their performance to others and always come up short. Sometimes they have blown it so badly that they are pretty sure they are forever a lost cause. If they were asked to evaluate their impact for Christ, they would give themselves really low marks or even a big fat zero. Sometimes people with Yuck flesh constantly try to be a better Christian but no matter how hard they try, it never seems to work. Most of the time they give up altogether. Yeah, put a big Christian "L" on their forehead.
"Losers."
Sound like your flavor of flesh? If so, I have just two things to say to you:
First, therefore, there is now no condemnation for those who are in Christ Jesus, because through Christ Jesus the law of the Spirit who gives life has set you free from the law of sin and death. For what the law was powerless to do because it was weakened by the flesh, God did by sending his own Son in the likeness of sinful flesh to be a sin offering. And so he condemned sin in the flesh, in order that the righteous requirement of the law might be fully met in us, who do not live according to the flesh but according to the Spirit. —Romans 8:1-4
Secondly, all flesh is yuck. You're just fortunate enough to be able to see it for what it is.
Oh Jesus, thank You for coming. Thank You for receiving me just the way I am. Thank You for giving me another option to the flesh. Thank You for showing the way to live according to the Spirit… thank You. Amen.
Listen to Pete, Jill & Stuart Briscoe on the Telling the Truth broadcast at OnePlace.com
SPECIAL OFFER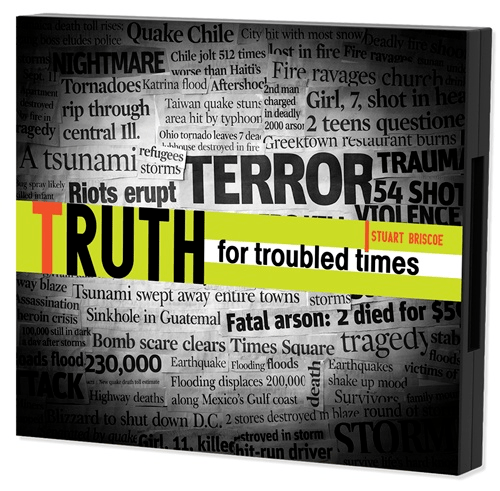 Stuart Briscoe wants to help you speak for Truth in troubled times
Get equipped to speak up for truth in our troubled culture. Request your copy of Stuart Briscoe's 5-message CD series, Truth for Troubled Times. It's our gift to thank you for your donation – which will be doubled by a Matching Grant – to help Telling the Truth reach our $400,000 financial year-end goal!