"The trick is to stop thinking of it as your money." — IRS Auditor
I once had a conversation with a woman who was at our missions festival. While she was mixing with people and visiting the different organizations at the festival, she learned of some orphans in a central American country. Shortly after that mission festival, her mother passed away and left an inheritance to her.
As she was spending time with the Lord, He laid on her heart, "I want you to build an orphanage for those kids down there."
This specific leading completely resonated with a biblical principle she knew:
"Do not store up for yourselves treasures on earth, where moths and vermin destroy, and where thieves break in and steal. But store up for yourselves treasures in heaven, where moths and vermin do not destroy, and where thieves do not break in and steal. For where your treasure is, there your heart will be also." – Matthew 6:19-22
So she took $30,000 of her inheritance and built a whole orphanage down there for these kids. She's now so excited and passionate about that little village that she is going to build a school and a church because there's no church building there, either.
It's changed her whole attitude about her vocation. She said, "Now I can't wait to go to work because I've got a reason to make this money because I've got a place to put it."
In this example, all of the "giving blessings" are present again. Because she answered the call to put her money where Jesus told her, her heart is freer for Christ. She is serving those brothers and sisters who are serving those children and she is serving the spiritual community by giving them a place to meet. There's a blessing missionally for the lost because kids are rescued out of a desperate situation and introduced to Jesus, and the church is more equipped to reach their community. And as if that's not enough, whatever the spiritual equivalent of $30,000 happens to be, she will get it in heaven at the Bema day.
Pretty good return on her investment, if you ask me.
Lord, give me a long-term investment strategy with Your money. May the things You have entrusted to me be used to make a big difference here on earth and in eternity. Amen.
Listen to Pete, Jill & Stuart Briscoe on the Telling the Truth broadcast at OnePlace.com
SPECIAL OFFER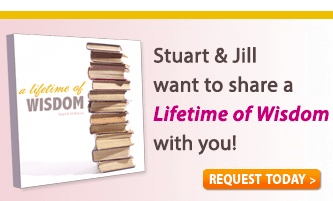 Stuart and Jill Briscoe want to share A Lifetime of Wisdom with you!
This 3-message CD series shares thought-provoking teaching from Stuart and Jill that shows how your life's experiences can lead to greater spiritual wisdom.