I think that carrying a baby inside you is like running as fast as you can. It feels like finally letting go and filling yourself up to the wildest limits. — Author Unknown
Christ is forming in us – taking shape and filling us in the same way a child fills his mother. Pretty wild, really, this truth about the presence of His Spirit in us. We can even think of baptism as a pregnancy announcement. What you're saying when you get baptized is, "I'm pregnant! Jesus is in me."
And He is. He's starting to grow and change the way we look and how we relate to people.
My dear children, for whom I am again in the pains of childbirth until Christ is formed in you… (Galatians 4:19)
Jesus will begin to show in our lives and the results are amazing. Listen to some stories I've encountered of Jesus showing, just in my part of the world. Imagine the stories that are around you – the stories that are you.
I knew a guy who was offered a tremendous promotion – a pinnacle of success in his career path – but it would have required an uprooting of his family. His kids were doing great in school, and his wife had a sense of purpose in the community. They were involved in a great church as a family. So he looked at his family and chose to turn down his promotion. His Jesus was showing.
There's a businessman in our church who is a partner in a firm with other believers. At the end of the year, the partners gather together and agree upon a certain percentage of company profits to give away. They give it to charities and churches, ministries and missionaries. And every time they write that check, their Jesus is showing.
I know a woman whose joy is to meet over coffee with younger women and just listen and encourage them in their lives. She does this every day. Her schedule is full of coffee and lunch dates, birthdays and milestone reminders as she watches these young women flourish in life, singleness, marriage, first children, first jobs, discovery of purpose, and intimacy with God. When she's listening and encouraging, her Jesus is showing.
So next time you see someone do something that has evidence of God all over it, let the person know. It's like walking up to someone, putting your hand on his or her tummy, and saying, "Hey! Your Jesus is showing."
They'll love it. I promise.
Jesus, I look at others around me and feel like their Jesus is showing more than mine. In fact, sometimes I feel so barren compared to others. Yet, I believe Your Spirit fills me. I rest in You and trust in You to live through me as You wish. And today, show me one way You want to encourage one person who is letting You show through his or her life. Amen.
Listen to Pete, Jill & Stuart Briscoe on the Telling the Truth broadcast at OnePlace.com
SPECIAL OFFER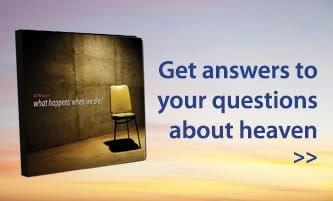 Jill Briscoe's What Happens When We Die? CD Series
Most people have a vague notion of heaven and hell, and many people assume they're going to heaven simply because they're "good people." But what does God's Word say about heaven? And how can you be certain you'll go there? Jill Briscoe answers these questions and more in this insightful series – so be sure to request your copy today!