Time is Too Slow for those who Wait, Too Swift for those who Fear, Too Long for those who Grieve, Too Short for those who Rejoice; but for those who Love, Time is not. – Henry van Dyke, Music and Other Poems
One of our parenting challenges was recognizing when to get involved and when to stand back. Sometimes Libby or I would overhear conversations or watch some bullytype behavior toward our kids, and we'd want to intervene, proclaiming, "Hey, you 8-year-old punk! You can't talk to my kid like that!"
Thankfully, we refrained and no young people left our home traumatized. Over time our kids grew up and selected encouraging friends. Seeing them choose well was incredibly rewarding. But waiting for growth when we wanted to intervene? That was hard.
Jesus could stop our suffering. He could intervene, but instead He waits. Why? If He's in charge and could stop this mess, why does He wait?
"Sit at my right hand until I make your enemies a footstool for your feet." - (Hebrews 1:13, emphasis mine)
"'What is mankind that you are mindful of them, a son of man that you care for him? You made them a little lower than the angels; you crowned them with glory and honor and put everything under their feet.' In putting everything under them, God left nothing that is not subject to them. Yet at present we do not see everything subject to them." - (Hebrews 2:6-8, emphasis mine)
We'd be missing out if we didn't consider how difficult the wait must be for God. His love for us is so great that I wonder how often He wants to come down to earth and say, "Hey, you punk! I see what you're doing to My kid!"
The day when God punishes those who did evil to His children will come. But in the meantime, we live in the "until."
Are you able to trust God with the wait? Are you able to say, "I know You love me even though You aren't showing up right now"? The truth is this: One day it will all be made right, but we haven't arrived at that day – yet. Until we do, we trust. And as He waits, something incredible is happening: the Kingdom is growing, and the family of God is growing closer and becoming ever larger.
Jesus, how I'd love to see the world as You do – not as a single day, but as all the days leading toward one great day of restoration. On behalf of everyone who accepted You today, I'm thankful for Your delay. Grant me courage to talk about You so that our family can become even larger. Amen.
Listen to Pete, Jill & Stuart Briscoe on the Telling the Truth broadcast at OnePlace.com
SPECIAL OFFER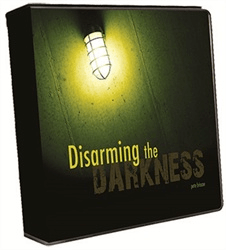 Pete Briscoe's Disarming the Darkness DVD or CD series
Satan loves to use Christians as his punching bag. But if you're a believer, you don't have to fear his attacks and can walk in freedom! Learn more about Satan's defeat and your triumph in Christ in this encouraging 7-message CD or DVD series from Pete Briscoe.