If you wish to be a success in this world, promise everything, deliver nothing. – Napoleon Bonaparte
God has made some pretty impressive promises over the millennia. He promised Abraham that his descendants would outnumber the stars (in spite of Abraham and his wife's triple-­digit ages), and it has happened. Fast forward a few thousand years and we come to another promise He made to David through Nathan:
"The Lord declares to you that the Lord himself will establish a house for you: When your days are over and you rest with your ancestors, I will raise up your offspring to succeed you, your own flesh and blood, and I will establish his kingdom. ... Your house and your kingdom will endure forever before me;;, your throne will be established forever." – 2 Samuel 7:12, 16
It's awesome to read this section of history in its entirety. So many twists and turns as God's perfect promises rub up against fallen humanity. Essentially, God's promise to David was, "I'm going to start a royal line through you and this royal line will have a unique relationship with Me."
Then, God also promised that the Savior would come through this line. It started with Solomon, then Solomon messed it up, but God kept His promise until it culminated one day in Christ being born of the seed of David. Amazing, really.
But that's not all. One angle of the good news of "the gospel of peace" (Ephesians 6:15) is that this promise extends to each of us who are in Christ. Through David, God's faithful promise of forgiveness, redemption, and lordship were made crystal clear. His invitation into a special, personal relationship was blatant – and Jesus makes that same invitation to each of us right here, right now, today.
"Peace I leave with you;; my peace I give you. I do not give to you as the world gives. Do not let your hearts be troubled and do not be afraid." – John 14:27
Dear God, thank You for the prophets and disciples who proclaimed Your truth to the world. Live through me to courageously live your "good news" of hope, the "Gospel of peace" in a world that lives in the dark. Amen.
Listen to Pete, Jill & Stuart Briscoe on the Telling the Truth broadcast at OnePlace.com
SPECIAL OFFER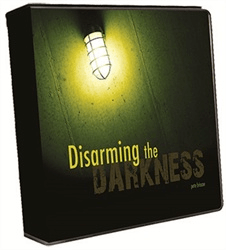 Pete Briscoe's Disarming the Darkness DVD or CD series
Satan loves to use Christians as his punching bag. But if you're a believer, you don't have to fear his attacks and can walk in freedom! Learn more about Satan's defeat and your triumph in Christ in this encouraging 7-message CD or DVD series from Pete Briscoe.