I came all this way for a reason. Today is the day of salvation. Trust Jesus to save you. Then be sincere, as God knows a pretender. – Kirk Cameron
Uncertainty about spiritual things can be paralyzing. That's certainly the case when it comes to salvation, and that's why Paul calls us to put on "the helmet of salvation" (Ephesians 6:17). The good news is that if you are truly in Christ, you can know that you have eternal life. How can we be certain about something so important?
Therefore, if anyone is in Christ, the new creation has come: The old has gone, the new is here! – 2 Corinthians 5:17
Rewind! What does that mean? How can we be in Christ? Doesn't the Bible teach that He is in us? In reality, it's both!
If anyone acknowledges that Jesus is the Son of God, God lives in them and they in God. – 1 John 4:15
What does it mean to be saved? It means that you've accepted that Jesus Christ is fully God and fully man, that He lived a perfect life, that He died for you, that He rose again, and that you've come to the cross saying Jesus wash me clean, forgive me, come live inside me, create a new heart in me, and change me from the inside out.
If you've walked through that process with a sincere heart (no pretending allowed), then the helmet of salvation is yours, the Holy Spirit has come in, and you have entered into a new eternal life "in Christ," in union with Him.
... God has given us eternal life, and this life is in his Son. Whoever has the Son has life; whoever does not have the Son of God does not have life. I write these things to you who believe in the name of the Son of God so that you may know that you have eternal life. – 1 John 5:11-­13
That's something we can be certain about. This protective helmet of salvation is something that God has given us, so that we can know that eternal life is ours.
Lord, by Your Spirit, I ask that You reveal Your truth to me! Take away all the shadows of doubt from my mind and help me to realize that I am fully Yours. Amen.
Listen to Pete, Jill & Stuart Briscoe on the Telling the Truth broadcast at OnePlace.com
SPECIAL OFFER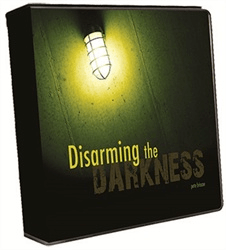 Pete Briscoe's Disarming the Darkness DVD or CD series
Satan loves to use Christians as his punching bag. But if you're a believer, you don't have to fear his attacks and can walk in freedom! Learn more about Satan's defeat and your triumph in Christ in this encouraging 7-message CD or DVD series from Pete Briscoe.