To all who received him, who believed in his name, he gave power to become children of God. Power to become children! … Born, says John, not of blood or of the will of the flesh or of the will of man, but of God. – N. T. Wright, Sermon at the Eucharist on Christmas Morning 2007 
If you're a woman, perhaps it's not so exciting to hear Paul talk about being a "son of God." Perhaps you aren't even sure Paul's words apply to you – maybe they were written to males only.
Nope, not at all. "Sonship" is not a gender-exclusive truth.
For you are all sons of God through faith in Christ Jesus. (Galatians 3:26 NASB)
Listen, in Paul's time, only the sons could inherit the father's estate. Daughters weren't included in the inheritance. So here, when Paul writes that we are all sons of God, that means we are all coheirs of Christ – including our sisters – so that we ALL know we are included in His glorious inheritance. Praise God that categorical ways of grouping humanity do not matter at the cross.
Sure, sons are sons, but daughters of God are sons too, amplifying at full volume that all who are in Christ are coheirs in Christ. All. That word Paul uses in the verse above is pontas, and it means – get ready for it – "all." Every single one. All believers – male and female. All ethnicities. All who are in Christ.
It's stunning. It's just. It's loving: For you are all sons of God…
So for today, ladies and gentlemen, let's be sons of God together.
"For today, ladies and gentlemen, let's be sons of God together."
TWEET THIS
Lord, what a privilege and an honor that You would dare call me a "Son of God." The terminology gives me chills, as I realize just how much You love me, that You identify me with Jesus. Today I pray the weight, the glory, the grace of my identity as Your son will go with me everywhere. I pray that truth guides my decisions, sifts my words, and multiplies my relationships. Amen.
Listen to Pete, Jill & Stuart Briscoe on the Telling the Truth broadcast at OnePlace.com
SPECIAL OFFER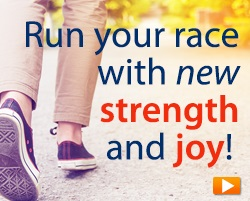 Run your race with new strength and joy!
The journey of faith is filled with rocky roads. When life isn't perfect it's easy to confuse the events of life with the absence of God. We want to send you Jill Briscoe's Faith Enough to Finish book to help you find the strength you need to endure life's tough times. Request your copy as thanks for your gift today!