I know there's a place you walked, where love falls from the trees. My heart is like a broken cup. I only feel right on my knees. I spit out like a sewer hole, yet still receive your kiss. How can I measure up to anyone now, after such a love as this? Who are you? Who, who, who, who? – The Who, "Who Are You?"
Soooo, who are you? You might answer:
I'm a man, a woman, a teenager. I'm a Republican, a Democrat, a Baptist, a Methodist. I'm a Millennial, a Gen X-er, a Baby Boomer. I'm Latino, African American, Caucasian, Asian. I'm well-off, I'm struggling, I'm making ends meet. I'm a father of two, a mom of five. I'm single. I'm married. I'm divorced. I'm separated.
Sure, some of those descriptions might be a fit. For years, I introduced myself as a pastor, a leader, a preacher, a radio guy. However, these were all secondary identities. It took the Lord to show me, "Pete, you're a son of God. Nothing else matters."
Even after becoming followers of Christ, we can continue to live out of our secondary identities. What are our secondary identities? Anything other than the truth about being a child of God.
Listen, the cross leveled the ground beneath it. There are no longer distinctions beyond the fact that we are all children of God through faith in Christ Jesus.
There is neither Jew nor Gentile, neither slave nor free, nor is there male and female, for you are all one in Christ Jesus. (Galatians 3:28)
What's your primary identity? You are a child of God through faith in Jesus.
"What's your primary identity? You are a child of God through faith in Jesus."
TWEET THIS
Paul goes on to say in Galatians 4:6 that your soul can cry out to God, "Abba, Father!" Abba is translated as "Daddy." That might seem trivial, but really think about everything this name implies! Children run to "Daddy." They ride on their "daddy's" shoulders. They tuck themselves under "Daddy's" arms. They tug on his hand – and they know their "daddy" is smitten with them.
Please, get this: Today, you can call Him "Daddy" with all of the random, giddy, spontaneous passion of a child. Because you are His kid, and nothing – nothing – can keep you from His embrace today.
Daddy, show me today how every single person on earth is either a slave or a son. May that realization change how I live. May it change how I love others. May it erase my sense of failure and charge me with a need to engage Your Spirit within me, so I may follow You in reckless abandon and trust as You lead me in the dance today. Amen.
Listen to Pete, Jill & Stuart Briscoe on the Telling the Truth broadcast at OnePlace.com
SPECIAL OFFER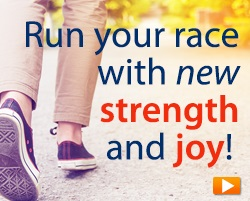 Run your race with new strength and joy!
When life isn't perfect it's easy to confuse hard events with the absence of God. We cry out, "Why?" instead of asking God to strengthen us to endure tough times. We want to help you find the strength needed to endure life's tough seasons by sending you Jill Briscoe's Faith Enough to Finish book as thanks for your gift today. And to say thanks for your gift of $50 or more, we'll also send you her 3-message CD companion series of the same name.
Jill's book and messages will equip you with biblical truth, so you can run the race before you in faith—moment by moment, with new strength and joy. We'll send you these resources as thanks for your gift today to help us share God's Life-giving Truth on air and online.