If you eat a balanced diet, you get all the vitamins and minerals you need, and you don't need any supplement... overdosing can actually be more harmful. — Subodh Gupta, Celebrity Trainer
People who are concerned about their health tend to be serious about vitamins. Many open their pack of supplements each morning, swallow down the pills, and then eat whatever they wish for the rest of the day. They take supplements to cover the inadequacy of their diet. 
Then there are those who take supplements to super-charge their health. They swallow their horse-sized pills right before they eat their gluten-free, high-protein, low-fat, low-carb, sugar-free breakfast. Their supplements are backup insurance. Through proper nutrition, they already have everything they need, but just in case...
Interesting, isn't it? Here's the point: The church in Galatia approached their faith this same way, and so do many of us. They had Jesus, but they weren't sure He was enough. Teachers came along and told them, "Hey, Jesus is great, but you need a boost – a supplement – to the Gospel. You need to add some law to your faith-diet." The Galatians, on a spiritual health kick, jumped on board. After all, the law had been good for them in the past; why not use it to supplement faith today?
When Paul realized what was happening, he didn't mince words: Some people are throwing you into confusion and are trying to pervert the gospel of Christ. (Galatians 1:7)
Bam! Paul hit this hard and so should we. Jesus requires no supplement. His provision is complete. To add to the pure Gospel of God's amazing grace isn't just unnecessary; it changes the Good News and makes it no Gospel at all!
Think about that. It's that serious. It's that damaging to your spiritual health.
Lord, thank You for incredible teachers such as Paul who build tension so I might realize what's at stake if I add to Your grace. Give me understanding of why I'm leaving legalism behind, so I will never be tempted to return. Amen.
Listen to Pete, Jill & Stuart Briscoe on the Telling the Truth broadcast at OnePlace.com
SPECIAL OFFER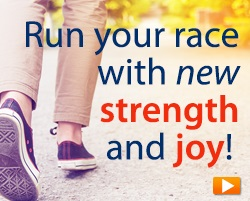 Run your race with new strength and joy!
The journey of faith is filled with rocky roads. When life isn't perfect it's easy to confuse the events of life with the absence of God. We want to send you Jill Briscoe's Faith Enough to Finish book to help you find the strength you need to endure life's tough times. Request your copy as thanks for your gift today!