"Arise O Sluggard! In the grave there will be sleeping enough." —Benjamin Franklin
A number of years ago the legendary professor Howard Hendricks was speaking at Dallas Theological Seminary, an all-male school at the time. He stood up and said something to this effect, "Gentlemen, I need to talk to you. I've decided that I'm not going to waste my time on many of you anymore." (Major attention-getter from the highly respected educator.) "Here's why," he continued. "Some of you are so hopelessly out of shape that I'm not going to invest my time in you. I would rather invest my time on someone who's going to live for a long time. So get in shape or get out of school!"
Harsh? Absolutely. But the point he was making was deathly serious: You get one "earth suit." There are no returns and there's no warranty. When it's done, it's done.
I don't know about you, but I think that leads to a pretty obvious conclusion: You must care for your body. Give it exercise; fuel it with good food. Give it enough sleep and rest; optimize its efficiency with vitamins and nutritional supplements. And what about your weaknesses? Remember that the body is susceptible. Alcohol? Tobacco? Junk food? Paul said:
Do you not know that your bodies are temples of the Holy Spirit, who is in you, whom you have received from God? You are not your own; you were bought at a price. Therefore honor God with your bodies.—1 Corinthians 6:19-20
Figure out your weak spot and turn it over to Christ. Allow Him to be your strength; trust in Him moment by moment to deliver you because your body is an instrument of worship and righteousness. Dr. Hendricks spoke with authority on the issue because he had been similarly challenged as a young "out-of-shape" man. He made lifelong, lifestyle adjustments that, to date, have enabled him to serve at the seminary for nearly 55 years!
But remember: You are destined to failure when you try to change your flesh in the strength of your flesh. Any lasting success is the result of trusting the Lord to do these things through you, rather than trying to do them on your own.
Loving Father, we both know that the pleasures of the world will spoil and ruin the body You've given me. Keep me from choosing things that will wear me down. Give me strength to choose the things that will build me up in such a way that I can be the person You made me to be! Amen.
Listen to Pete, Jill & Stuart Briscoe on the Telling the Truth broadcast at OnePlace.com
SPECIAL OFFER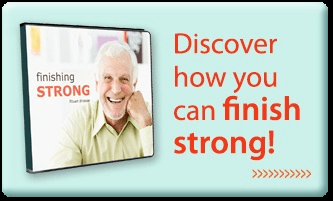 Nowhere in Scripture do we see people slowing down or retiring from God's work—if you're still alive, God has a purpose for you! Stuart Briscoe's 4-message CD series, Finishing Strong, will help you do just that—no matter your age, health, or circumstance. Request your copy of Finishing Strong and serve God until your dying day!