You are not a pawn
Linda Buxa
Every two years in September, a costumed human chess game is played in Marostica, Italy. In the town square, Piazza del Castello, the human chess pieces (complete with live horses for the knights) stand on a giant chessboard, waiting to receive their orders to move.

When your life looks nothing like the life you planned for yourself, it might seem like you are simply a pawn in God's giant chess game. You wonder if maybe he is only giving orders, moving you around this planet on a whim.
It's not only at Christmas that we need to remember Jesus' name: Immanuel, "God with us."

Not God above us, not God watching us, not God vaguely aware of us, not God playing with us. We are not bit players in his game. Instead he got in the game with us; he came to play for us. He chose to leave heaven and become one of us, to walk with us, to live among us.

When Jesus went back to heaven after he won, he didn't leave us alone again to resume the game on our own. Instead, the Holy Spirit came and now lives inside of us. God with us is now God in us.
The news only gets better. While we wrestle with this imperfect world, we know a perfect version of it is waiting for us. Jesus' victory guaranteed it.

"I heard a loud voice from the throne saying, 'Now the dwelling of God is with men, and he will live with them. They will be his people, and God himself will be with them and be their God'" (Revelation 21:3).
---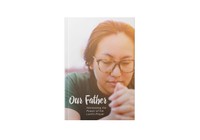 Harness the power of the Lord's Prayer!
Our Father is a small book with big insights. It gives you a behind-the-scenes look at the very meaning of the Lord's Prayer. With each phrase devotionally unpacked, you'll be more than inspired. You'll be empowered! 
For more from Time of Grace visit them at TimeofGrace.org.