December 11
What if We're Fighting All the Time?
Sometimes people lament that they fight all the time, but the truth is that they like arguing. There's a kind of sick thrill in push backs, zingers, and always getting in the last word. You can deflect shame and guilt for your own sins if you can tilt the floodlights on your partner's transgressions, right?
The reverse is just as bad—holding all that anger in, saving it up for a bigger explosion later. If you can't or won't forgive it and let it go, then speak softly about what's on your mind as soon as possible. St. Paul writes, "'In your anger do not sin': Do not let the sun go down while you are still angry, and do not give the devil a foothold" (Ephesians 4:26,27).
The same person who coined the foolish cliché forgive and forget also gave birth to time heals all wounds. Time does nothing of the sort. It only stores up and ferments anger. Only the gospel love of Christ heals wounds. Only you can decide to let Christ calm your spirit and speak gently about what is hurting you.
---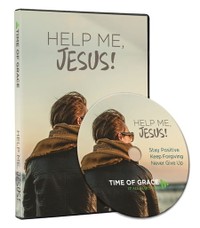 Help Meet the Challenge Grant!
A group of generous friends has stepped forward with a $350,000 Challenge Grant. This means any gift you give to Time of Grace this month will be worth twice as much to share the timeless truths of God's Word with others!
This three-part DVD focuses on looking to God when you're struggling with issues like forgiving others and persevering through trials. And the prayer book helps you put your struggles and concerns into words—and turn them into prayers to God.
The Help Me, Jesus! set is our thank-you for your donation to help us continue telling others of the forgiveness they have through Jesus. Request your copy today!
For more from Time of Grace visit them at TimeofGrace.org or visit their OnePlace.com and LightSource.com pages!