December 13
Forgive Your Parents
I love saying "Father, forgive me," because he always answers that prayer right away. There is no bottom, no end, no limit to Jesus' forgiveness.
But then comes the hard part—"as we forgive those who sin against us." God says he wants me to be equally as generous in forgiving other people. "As God's chosen people, holy and dearly loved, clothe yourselves with compassion, kindness, humility, gentleness and patience. Bear with each other and forgive whatever grievances you may have against one another. Forgive as the Lord forgave you" (Colossians 3:12,13).
It is important to appreciate all that your parents have done for you. But let's get real—they have hurt you too. They are sinners and have sinned against you. Millions of Americans have grown up in homes with parents who are alcoholics, who have sexually abused or permitted the sexual abuse of their own children, or whose adultery and betrayal broke up the household. What hurts do you still carry with you? Where do you go with that anger?
The past cannot be changed. What can be changed is how you choose to remember it. As the Lord has helped you by forgiving your sins, he can help you also to let go of your anger so it will not punish, torment, poison, or imprison you any longer. Let it go.
---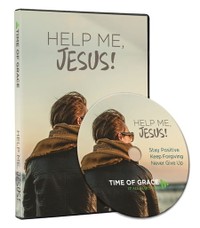 Help Meet the Challenge Grant!
A group of generous friends has stepped forward with a $350,000 Challenge Grant. This means any gift you give to Time of Grace this month will be worth twice as much to share the timeless truths of God's Word with others!
This three-part DVD focuses on looking to God when you're struggling with issues like forgiving others and persevering through trials. And the prayer book helps you put your struggles and concerns into words—and turn them into prayers to God.
The Help Me, Jesus! set is our thank-you for your donation to help us continue telling others of the forgiveness they have through Jesus. Request your copy today!
For more from Time of Grace visit them at TimeofGrace.org or visit their OnePlace.com and LightSource.com pages!