December 15
Christ-mas Is Christ-time
Are you ready for Christmas? Please don't imitate me in your shopping habits. I'm absolutely dreadful. I am a procrastinating slug who waits until the 23rd or 24th before doing everything all at once in a frenzy.
I know some of you are ready because I received Christmas cards from you before Thanksgiving. My first thought when I got the first card was, "This is a sick woman." Then, my second thought was, "This is an awesome woman to be that well organized. She is totally into it. She's not afraid of the demands of the season because she is so ready!"
Whether you are an early-bird shopper or a last-minute panic buyer is not all that important. What does matter is how highly you value the birth of the Son of God as a human being. John the Baptist could be blunt and to the point: "Prepare the way for the Lord; make straight paths for him" (Matthew 3:3).
What does that "prepare the way" metaphor actually mean? Just this—that you reflect on your sinful condition, taking responsibility for all your rebellious thoughts, words, and deeds . . . that you welcome the Word that tells you of the miracle birth . . . and that you believe with all your heart that Christ Jesus loves you personally.
---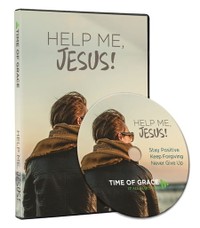 Help Meet the Challenge Grant!
A group of generous friends has stepped forward with a $350,000 Challenge Grant. This means any gift you give to Time of Grace this month will be worth twice as much to share the timeless truths of God's Word with others!
This three-part DVD focuses on looking to God when you're struggling with issues like forgiving others and persevering through trials. And the prayer book helps you put your struggles and concerns into words—and turn them into prayers to God.
The Help Me, Jesus! set is our thank-you for your donation to help us continue telling others of the forgiveness they have through Jesus. Request your copy today!
For more from Time of Grace visit them at TimeofGrace.org or visit their OnePlace.com and LightSource.com pages!