December 20
The Word. Nothing More. Nothing Less.
Every writer, er, every good writer, that is, knows that his or her writing will be improved by submitting the copy to an editor before it sees print. Good editors notice discrepancies, gaps in logic, misspellings, and overused words and expressions. Good editors prune, because they know that less is more. Tight writing is usually better writing.
People are eager to offer their editing services to God. They are sure that they can improve the relevance and marketability of the Bible. They like to edit out the parts they don't like, lighten up on the commandments, and call "myth" or "fiction" the parts that seem to conflict with modern scientific thought. They are fascinated by other sources of religious information and enjoy picking and choosing new stories to add to the biblical narrative.
God's Word needs no editors. God wants no editors:  "I warn everyone who hears the words of the prophecy of this book: If anyone adds anything to them, God will add to him the plagues described in this book. And if anyone takes words away from this book of prophecy, God will take from him his share in the tree of life" (Revelation 22:18,19).
The Bible gives you straight talk straight from God. It is best taken unadulterated. In its pure state it is nothing less than the power of God for the salvation of all who believe it.
---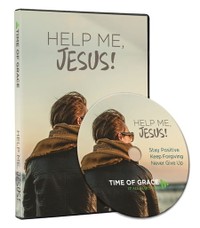 Help Meet the Challenge Grant!
A group of generous friends has stepped forward with a $350,000 Challenge Grant. This means any gift you give to Time of Grace this month will be worth twice as much to share the timeless truths of God's Word with others!
This three-part DVD focuses on looking to God when you're struggling with issues like forgiving others and persevering through trials. And the prayer book helps you put your struggles and concerns into words—and turn them into prayers to God.
The Help Me, Jesus! set is our thank-you for your donation to help us continue telling others of the forgiveness they have through Jesus. Request your copy today!
For more from Time of Grace visit them at TimeofGrace.org or visit their OnePlace.com and LightSource.com pages!