December 21
I Doubt That God Could Love Me
We all sing the blues sometimes. What's in your blues song this week? Dumped? Betrayed? Broke? Hung over? Robbed? Hopeless?
            It's hard to lift yourself out of the blues. Satan wants to keep you down, whispering "Loser!" in your ears. That's why God sends us friends whose words of praise or comfort can help us back on our feet.
            The ultimate comforting friend is God the Holy Spirit. When I am plagued by doubts, and especially the worst of all doubts—doubts that God loves me—the Spirit reminds me of the Calvary love of Christ our Savior. He helps me believe that such a great treasure can actually be mine, that heaven can actually be my destination too.
The Bible says, "The Spirit himself testifies with our spirit that we are God's children. Now if we are children, then we are heirs—heirs of God and co-heirs with Christ" (Romans 8:16,17). In the Spirit you've got a friend. In your God you've got a Father.
---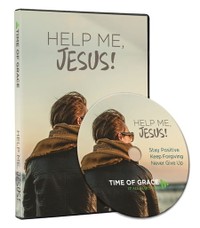 Help Meet the Challenge Grant!
A group of generous friends has stepped forward with a $350,000 Challenge Grant. This means any gift you give to Time of Grace this month will be worth twice as much to share the timeless truths of God's Word with others!
This three-part DVD focuses on looking to God when you're struggling with issues like forgiving others and persevering through trials. And the prayer book helps you put your struggles and concerns into words—and turn them into prayers to God.
The Help Me, Jesus! set is our thank-you for your donation to help us continue telling others of the forgiveness they have through Jesus. Request your copy today!
For more from Time of Grace visit them at TimeofGrace.org or visit their OnePlace.com and LightSource.com pages!