December 29
Be Patient
For a society that claims to reject organized crime, we Americans sure like gangster movies and television, don't we? From Al Capone to Tony Soprano, we lap up the stories of revenge, violence, and naked power.
What is it about those stories that we find so attractive? Well, for one thing, we all groan at the many injustices that the small and weak and unconnected must suffer. The judicial system often seems to work too slowly and inefficiently, and too many criminals get away with their crimes. It would go so much faster if we just took matters into our own hands (or so we fantasize).
It takes no brains to seek revenge. It takes strength and character to forgive another. "A man's wisdom gives him patience; it is to his glory to overlook an offense" (Proverbs 19:11).
Need help to think like this? Reflect on how God has forgiven you. The greatness of God is shown in his creative and sustaining power, but it shines even more brightly in the way in which his love triumphed over condemnation. You can choose to forgive, as the Lord has chosen to forgive you. Which sinful fool in your life needs some mercy from you? Give it today.
---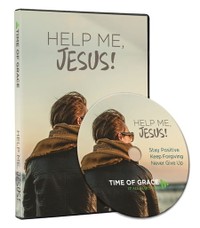 Help Meet the Challenge Grant!
A group of generous friends has stepped forward with a $350,000 Challenge Grant. This means any gift you give to Time of Grace this month will be worth twice as much to share the timeless truths of God's Word with others!
This three-part DVD focuses on looking to God when you're struggling with issues like forgiving others and persevering through trials. And the prayer book helps you put your struggles and concerns into words—and turn them into prayers to God.
The Help Me, Jesus! set is our thank-you for your donation to help us continue telling others of the forgiveness they have through Jesus. Request your copy today!
For more from Time of Grace visit them at TimeofGrace.org or visit their OnePlace.com and LightSource.com pages!